Are you looking for alternatives/options of Google Photos?
Next month, Google Photos' unlimited storage plan for "high-quality" photos will expire. The company made the announcement in November without elaborating about why it was doing so.
You may be upset that Google is removing yet another extremely useful feature. There are no free lunches, though. So, what are your alternatives? This article will answer all of your questions, including how to export your data and how to choose an alternative service.
How much data do you have on Google Photos?
Before you leave Google's image storage service, you should figure out how much data you've stored there. The simplest way to do so is to click on this page. The photos and videos section refers to photos and videos saved on Google Photos.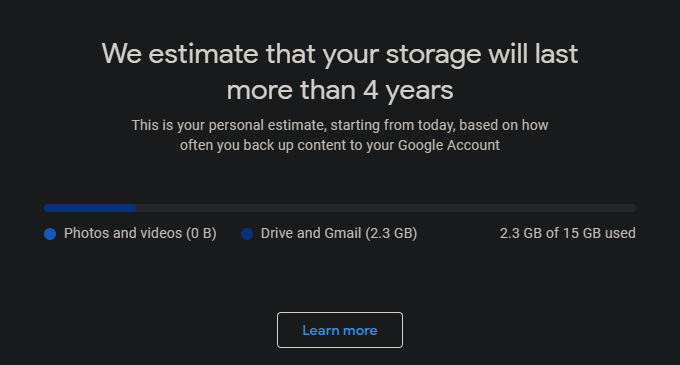 Google gives you 15GB of free storage across all of its services. To save space, delete unwanted files and big emails from Google Drive and Gmail. On Google Photos, compressed images take up about 1-4MB of space. As a result, you can easily fit more than 300 images per GB.
In November, the company stated that more than 80% of users would not exceed the 15GB cap for another ten years. If you're one of them, you do not have to think about leaving the military.

Exporting your data from Google Photos
You can export a backup of your Google Photos account in the following manner:
Navigate to Google Photos on your desktop and choose Settings.
Scroll down to the "Export your files" section and press the Backup button.
Pick your export frequency (one export in this case), file type for the export (.zip or.tgz), and maximum file size on the next screen.
Select the "Create Export" option.
It's possible that Google would take several hours to build your backup files. When your files are ready to download, you'll get an email notification.

While Google isn't the only company that provides photo storage, its unlimited photo storage plan was appealing. The only drawback was that it compressed images for cloud storage, but the quality difference wasn't noticeable in most instances.
Choosing an alternative Product
Although Google's 15GB cap is still substantial, here are some alternatives for storing your snaps and clips:
Google One
Google One (15GB free storage): If you need more storage and don't want to export your images to another service, Google provides paid plans starting at ₹130a month for 100GB.
iCloud

iCloud (5GB free storage): For many iPhone users, this is the best choice because it requires the least amount of effort to upload your images to the cloud. However, keep in mind that iCloud also stores backups, files, iMessage chats, and passwords for your iPhone and Mac. As a result, your images will have to compete for storage space. For a monthly payment of ₹75 you can add 50GB of storage to your account. And for certain people, that may be appropriate.
Dropbox

Dropbox (2GB free storage): While Dropbox has a variety of file storage options, it also has a dedicated photo backup product for iOS, Android, Windows, and Mac users. The company offers a variety of personal and business storage plans, beginning at $9.99 per month for 2TB of storage. Unfortunately, no cheaper plans with a few hundred GB of cloud storage are available.
Flickr

Flickr (1,000 pictures) differs from iCloud and Dropbox in that it is a dedicated service for storing high-quality photos. There is a free tier that allows you to upload 1,000 photos with no storage cap. However, if you have a lot of pictures to store, you can upgrade to the pro package, which costs $5.99 per month if paid annually. The best thing about this plan is that it has absolutely unlimited storage, meaning you can back up as many and as high-quality images as you want.
ImageShack

ImageShack (no free tier): If you want to store unlimited photos for less than Flickr, ImageShack is the service for you. It doesn't have a free tier, but for $3.99 per month or $37.99 a year, you get unlimited uploads.
OneDrive

OneDrive (free capacity of 5GB): Microsoft's storage plan offers you 5GB of free storage, and you can upgrade to 1TB of cloud storage for ₹ 4,899.00 a year. It also includes some Microsoft Office applications, such as Excel, Word, and Powerpoint.

Even if you don't have thousands of high-quality pictures, Google Photos is a good option because you'll get 15GB of free storage to store them. If you have a lot of photos, there are other services like Flickr and ImageShack that provide unlimited image storage.