With the plethora of choices available, making a smart gaming mouse purchase could be difficult. We have listed the best gaming mouse in India under 2000 INR.
PC Gaming could be expensive, especially in India. PC Gaming peripherals play the most important role in a Gaming PC. They are also the most inexpensive devices you can upgrade to if you want to get into gaming. Fortunately, the ever-growing community has obligated many new and old manufacturers to enter the segment and make gaming peripherals diverse and more accessible. Therefore, we bring to you the best gaming mouse in India that is available for under 2000 INR.
The Importance of Gaming Mouse
A gaming mouse is the essence of any PC gaming setup. The difference between a gaming mouse and a generic mouse is immense in games. The better sensor makes all the difference in accuracy, feel, and speed to elevate the experience while the ergonomic shape and size let you play comfortably. Whether you are getting into gaming or upgrading from the older mice, compromising on a good mouse is never a good idea, especially when the availability and variety of good mice are this high. A bad mouse totally ruins your feel and limits your skills.
Now you don't have to break into the bank for a good mouse for PC gaming.
List of Best Gaming Mouse in India under INR 2000
Sensor
The sensor is a custom-built S3059-SS and onboard memory for storing profiles, sensitivity up to 4000 CPI (counts per inch), and 140 IPS (inches per second) tracking speed, excellent and precise tracking. Lift of distance is 1 – 1.5 CD, so easy flicks in CSGO for all!
Build
The design is minimalistic and ergonomic with an ambidextrous shape, although the two side buttons (both programmable) are only present on the left side making it predominantly for right-hand users. The matte black finish provides a comfortable grip and the soft-touch coating is easy to clean. The weight is kept on a moderate scale for esports FPS titles, the cable is also thick not braided which seems to be a cost-cutting move.
Buttons
The primary clicks are Omron mechanical switches rated at 20 million clicks. The scroll wheel is also above par with distinct steps and ample resistance with a satisfying click. The DPI switch can change the profile on the fly (which can be set using the SteelSeries Engine app). Side buttons were not that impressive though, they feel a little off when pressing down slightly tangentially, but still acceptable tactility masks the wobbliness of the keys.
Features
You can't miss on that sweet RGB lighting present on two zones, on the wheel and at the logo at the palm rest with a full 16.8 million colour spectrum that can be set using the SteelSeries Engine app. Did I mention the LEDs are blindingly bright?
A brand that has roots deep in e-sports. Rival 105 is the reincarnate of the SteelSeries Kana, a mouse loved by many. And like its elder siblings, the Rival 105 has the same e-sports DNA built into it.
A must buy for those who want to invest in a well-known brand and do not want to compromise on quality, sensor, or buttons. Overall, it lacks features for fine-tuning the mouse, like calibration, but it is acceptable at the price we are getting the rest of the package for.
Pros
SteelSeries Engine.
Great Sensor.
Decent Buttons.
Bright LEDs.
cons
Non-braided cable.
Lacks fine-tuning features.
---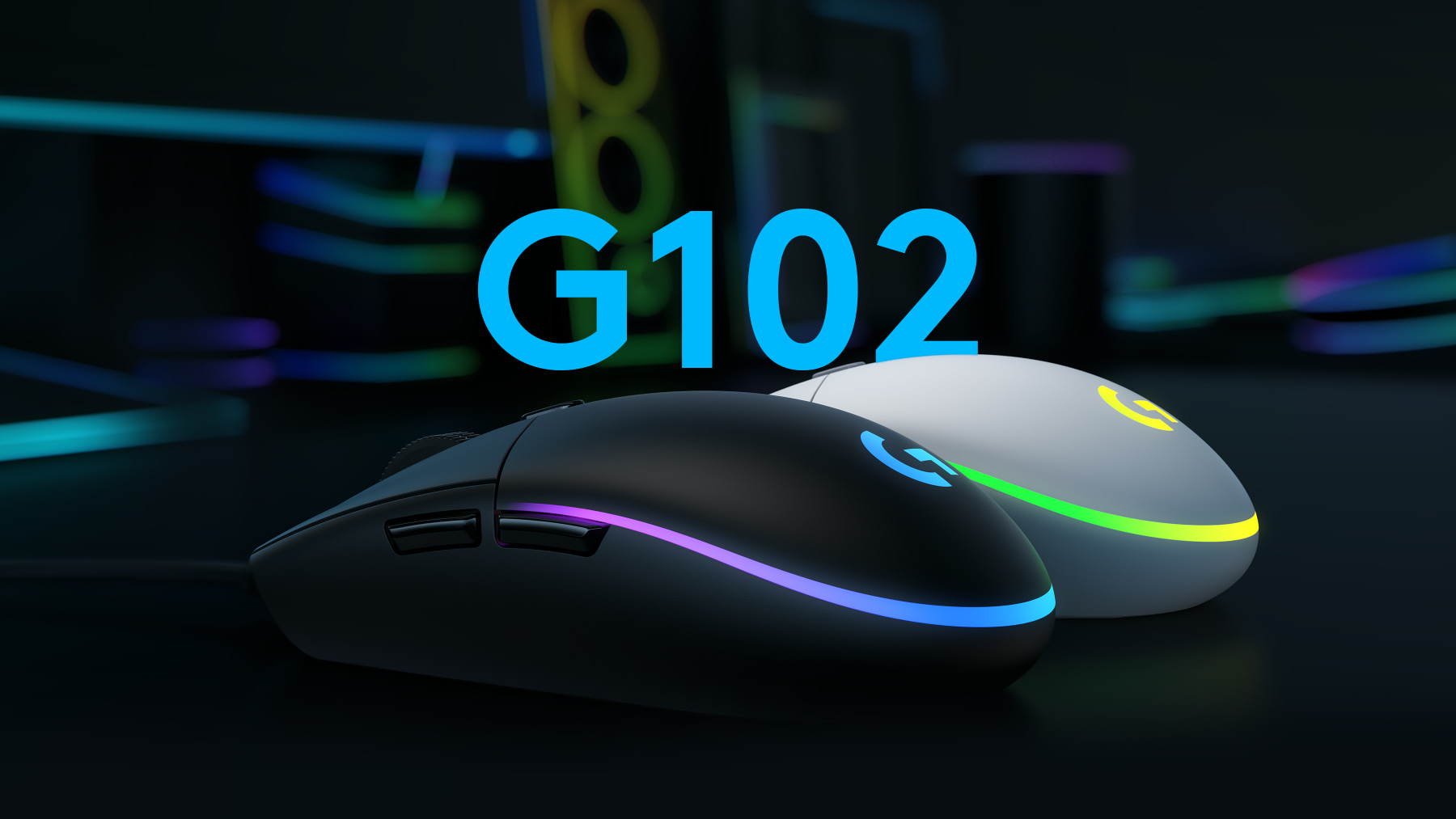 Sensor
It comes with a Mercury sensor with up to 6000 CPI sensitivity rating and 200 IPS tracking speed. One thing I can guarantee about this mouse is that it would not disappoint you in terms of sensor quality, I have used it for 3 months for playing CSGO and it was phenomenal. It also has onboard memory for storing profiles.
Build
The shell of the mouse is exactly shaped like the much more expensive G Pro (which also has a version called Logitech G Pro wireless in India), the positive reviews G Pro garnered for ergonomics and grip comfort also implies for the G102, speaking volumes of how well-contoured the palm rest, length and width of the mouse is. The shape is predominantly ambidextrous; however, the side buttons can only be used if you are a right-hander. It is featherweight, at 84g, it is one of the lightest mice from a tier 1 gaming brand. The cable is disappointingly slim and the rubber is not easily flexible.
Buttons
Cost-cutting is obvious here. The keys are light, too light to my taste. And it even has a lot of false travel with a dissatisfying actuation click that feels light and cheap. The scroll and the side buttons are totally fine though. You simply will not believe that those belong to the same mouse after using the primary buttons. The scroll is directly borrowed from the much more expensive G Pro and the side buttons also feel tactile and firm. The DPI changer switch is also solid.
Features
Logitech Gaming Software is the suite that controls the Logitech G peripherals and it is functional I must say. LGS and the supported LightSync RGB lighting on the mouse work perfectly for a brilliant light show. LEDs are bright and provide a seamless effect with a diffused glow around the palm periphery and on the logo. You can also store up to 5 memory profiles on board.
From the makers of the best mice on the market today, G102 is a seriously capable gaming mouse in fast-paced FPS games. Having personally owned this mouse, I can personally vouch for the quality of the sensor and how light weight this mouse is. The shape is reminiscent of the 15 years of Logitech's dominance in gaming peripherals, it carries the same design layout of the Logitech G1 from 2005 and how perfectly it fits in hand. Why fix it if it is not broken?
It would be the best budget mouse if the buttons were not so shallow and cheaply built. But apart from that, nothing else could be pointed out apart from one major flaw, the size. It is made for people who either have small hands or like small mice. This was the reason and not the keys that made me switch to a Razer Basilisk V1 after 3 months of using this mouse.
Pros
Phenomenal sensor
Great RGB effects
LGS suite
cons
Primary buttons not up to the mark
Shell too small for most people
---

Sensor
The sensor is precise as one would expect with sensitivity up to 6000 CPI. However, the tracking is not as good as the earlier of the two mice we recommended.
Build
The uni-body top with the matte plastic finish is grippy and feels premium for its price. Side rubber grips for thumb and pinkie finger are textured and make it feels premium for the segment. It is arched high, has a high-profile palm rest, and ample long buttons for comfortable palm grip for medium-sized hands. It is a right-handed mouse though, so left-handed gamers must look elsewhere.
Buttons
The only gripe that I can point out is the button construction. The top body joined of Mice is not preferred, your mileage may vary. The scroll is fine, steps are distinct and tactile, so are the middle click and side buttons.
Features
Corsair's CUE software suite lets you program all the six buttons and control the RGB lighting as well as the DPI profile settings, 5 in total, stored onboard. Lighting is only present on the logo at the palm rest which is totally invisible when using the mouse but at least it is there.
Alfred, to Batman, is what Corsair is to PC Gaming. Their peripherals are also revered especially the keyboards. But mind you, never underestimate corsair mice.
The Harpoon, albeit on the bottom end of their line-up, is one rugged, durable, comfortable, precise, and most well-rounded mouse we have on this list.
pros
Excellent grip
Decent build
---
Sensor
Armed with a PMW 3360 sensor that is hailed for its presence in many legendary mice like Zowie EC2-B, Cooler Master MM530 and even the big dog SteelSeries Rival 700! With sensitivity up to 12000 CPI, this sensor is the biggest selling point of the Z-1 that outshines the competition.
Build
This was inevitable to become a shortcoming if you must cut costs to make it cheap. The plastic is not of good quality, and the feel is low-grade. However, the build never comes in the way of its performance. The cable is also braided and flexible, buttons do not jitter or rattle while using. It is well built, but with not-so-great materials. Size mostly sits between the medium and small mouse category and is ergonomic and minimalistic in design. It is ambidextrous, even the side buttons are on both sides for true symmetry.
Buttons
Buttons are Omron switches with good feedback and tactility, the 4 side buttons on both sides give you extra shortcuts that you can program using their software suite. The scroll is acceptable at max; the middle click is also mediocre. DPI changing switch is well put and gives a good feel.
Features
Let us address the elephant in the room, the RGB lighting. Too much for my taste? Yes. But the top mice from Razer and SteelSeries also have this over-the-top RGB treatment. The effects don't impress as much though. It is addressable but I would prefer to keep them off because it subdues the rather minimalistic SteelSteries type appeal of the mouse.
The underdog packing a mighty punch.
Redgear Z-1 tries hard to compete with much higher priced offerings and succeeds at some things, apart from the only shortcoming that makes it cheap, this is the best recommendation if the brand is not what you care for.
pros
The lovely PMW 3360 sensor
Braided cable
Fully ambidextrous
cons
Build.
Less refined software.
---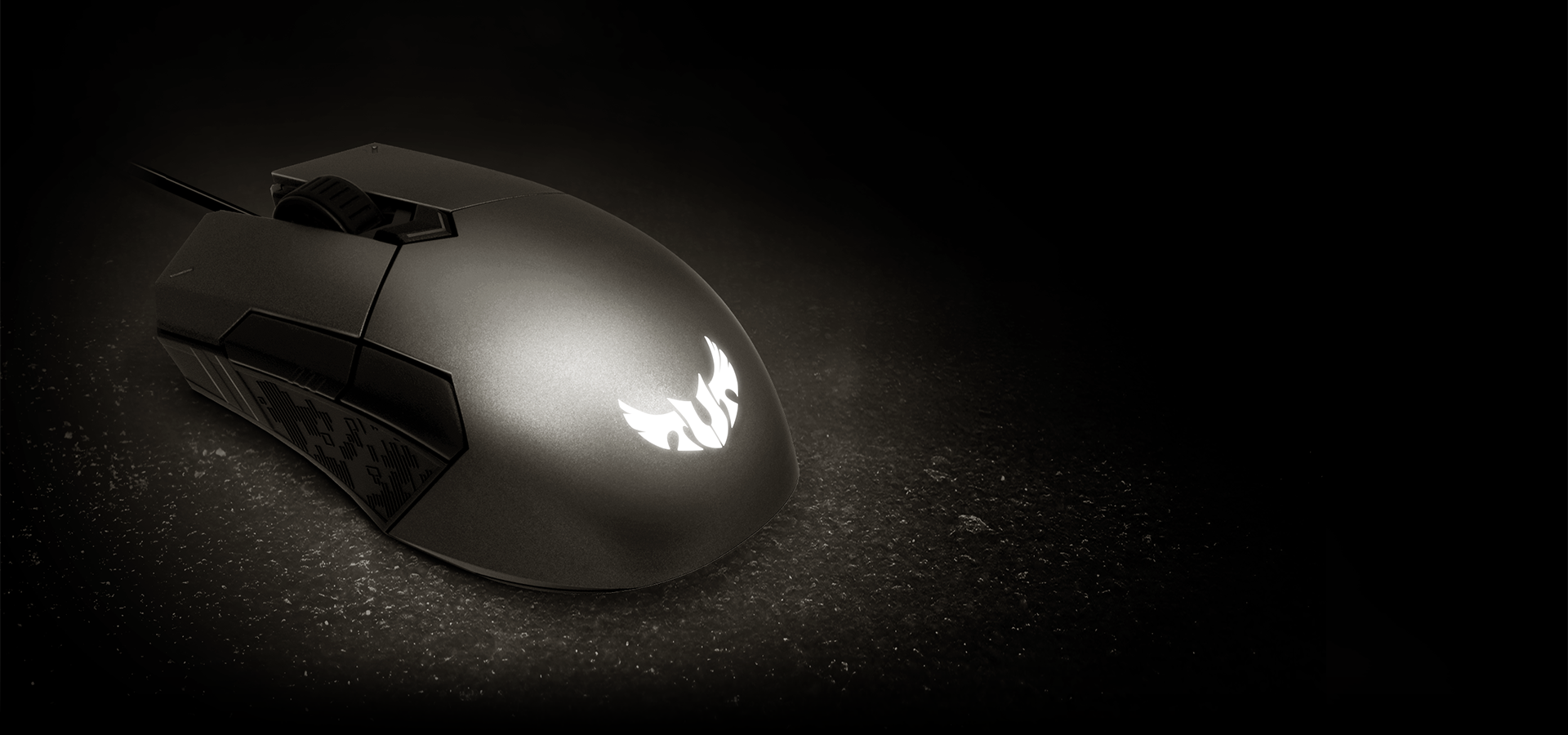 Sensor
Sporting a 6200 CPI sensor with precise tracking, this mouse could have been a true utility mouse if more buttons were included.
Build
The shape is ambidextrous but the buttons on sides are only on left, the shape and size of the mouse are suited for a middle ground between medium size mice and small size mice. But the width and length are suited for populous hand size.
Buttons
50 million clicks rated Omron mechanical switches make it a durable option for heavy-duty gaming action. It says TUF in the name, must be tough in real too. All the six buttons are programmable with onboard memory to store profiles. The side buttons and top DPI switcher also has a good feel.
Features
It has minimal RGB lighting and is present only on the palm rest. The Asus Aura software controls the lighting and can be modified to taste using the same.
From the PC Gaming veterans.
TUF M5 is a great alternative to the Corsair Harpoon as it has almost similar design cues. But also comes in a more pseudo ambidextrous package.
pros
Decent build.
Good buttons.
Decent sensor.
cons
Non braided cable.
No buttons on right
68
Corsair Harpoon alternative
---
Sensor
The sensor is rated at a maximum of 2500 CPI sensitivity, which might be low for few if you are using a 4K monitor and want to reach side to side of the screen with ease during casual browsing. But for 1080p, it is fine. The precise and smooth tracking is perfect for gaming at low sensitivities and even medium levels. The mouse has a dual-purpose personality which is quite contradictory with the sensor choice as to when not in-game, the lower CPI ceiling would restrict speedy productivity.
Build
The shell design is old, the G300s is the second coming of the G300 and has the same shape and size of its predecessor. It is however large and comfortable to hold and truly ambidextrous in nature with side buttons on both sides for perfect symmetry.
Buttons
Rated at 10 million clicks, it is not pretty assuring, but this is Logitech we are talking about, the quality and durability are above par. All the extra buttons are programmable and have great tactility and feel.
Features
The RGB is kept minimal, like how a dual-purpose mouse should be. The LGS talked about in the G102 section also does a great job in customizing the macros and shortcuts of the 9 programmable buttons. And this does come handy, I used to own a G300 in my school days and working with MS word and PowerPoint for assignments were bliss with so many shortcuts at my disposal.
For the professional at day and gamer at night, sort of person.
The macro master as few call it, this is also a mouse that I owned in the past and did not regret. With a gaming grade senor and ample buttons (9 programmable) to load macros onto, this is the perfect utility and gaming mouse hybrid one can ask for at this price.
pros
Truly ambidextrous
Good build
Good sensor
cons
Non braided cable
Not a high CPI count for higher resolution screens.
65
Dual purpose recommendation
Honourable mentions
Razer Abyssus Lite & Razer Goliathus Mobile 'construct edition' Bundle. – 2104/- @Amazon.in
From the brand synonymous to gaming peripherals. This bundle would have been in the list if it weren't a little over budget, but if you can stretch then definitely try to get this deal. The Abyssus Lite is a cheaper cousin to the Razer Viper available in India but has the same lightweight philosophy.
The best budget mouse that comes close to the legendary G502. G402 is a veteran, a true cousin to the G502. It is large, comfortable, comes with a brilliant sensor, and due to price cut, is now available at just a little over 2000 INR. Get this if you can stretch and want a mouse that is better than everything listed above.
For people looking for a wireless mouse for gaming, Logitech G Pro wireless in India would be our suggestion for the best value-for-money wireless mouse tailored for gaming. And can be also used in wired mode.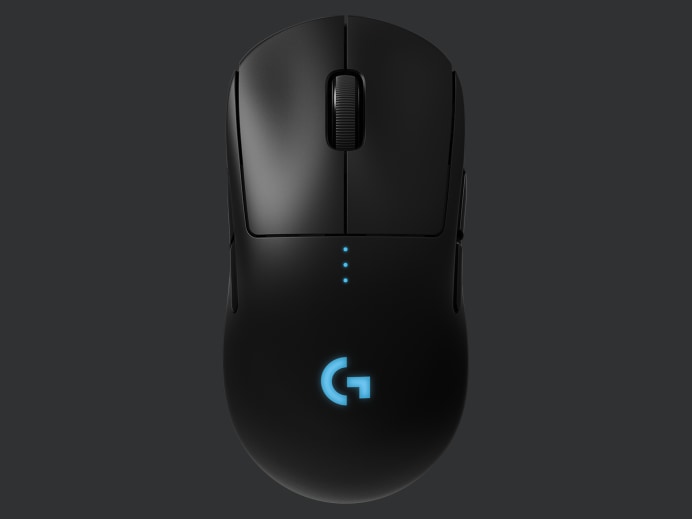 For lightweight dedicated FPS mouse, Razer Viper in India would be the one to go.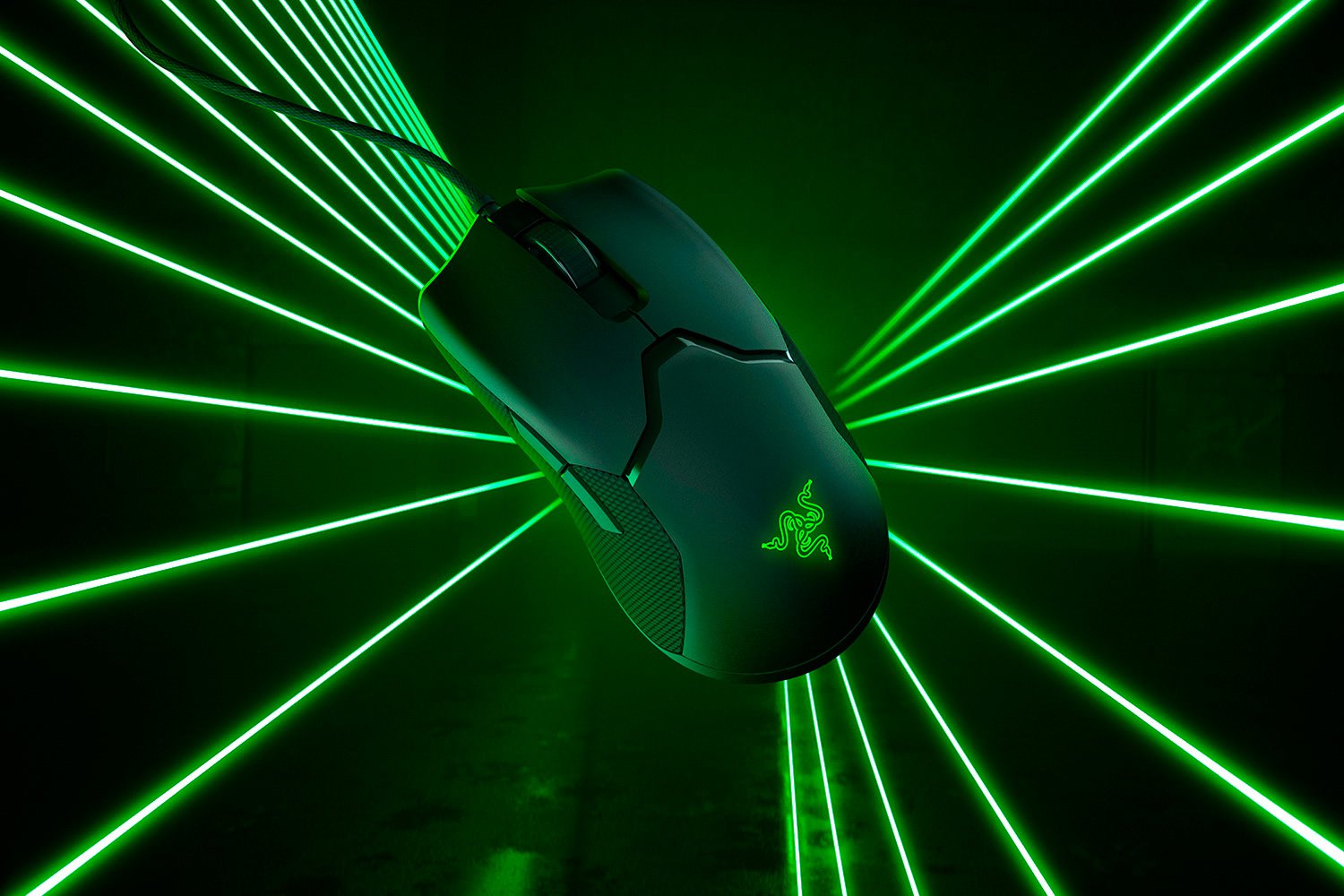 Conclusion
A gaming mouse is indeed a jewel in the crown for every setup, without which no gaming rig is complete. And just like every other component of PC gaming, this too comes at a variable budget and an excess of choices. Small things are needed to be kept in mind to make a smart purchase, like sensor, shape, size, and ergonomics.
So next time, do not fret if you are low on a budget because we got you covered with all the choices in every price bracket. We love to hear from you, so do not hesitate to let us know in the comments about how useful this list was. If you like our content, a follow-on Instagram would be much appreciated. Thanks, and happy gaming.