Baar Baar Dekho is a failed attempt to bring something fresh to the audience. It is not even entertaining unlike many other mainstream movies that may be nonsense but still manage to entertain.
When something fresh is about to happen in Bollywood you automatically start contemplating things that could go wrong with the movie. But somewhere in the back of your mind you do wish for the movie to not screw up. However if history has taught us anything it is "Bollywood shouldn't play with science fiction or even fantasy genre", with notable exceptions of Koi Mil Gaya, Robot and Bahubali. Such is the abysmal case of BAAR BAAR DEKHO.
[button color="white" size="big" alignment="center" rel="nofollow" openin="samewindow" url="#"]The Story[/button]
BAAR BAAR DEKHO is a story of a "Good Looking" mathematician, Jai (Sidharth Malhotra) and an artist Diya (Katrina Kaif). They've both been in love since childhood, now that they've grown up Diya wants to get married. But Jai unlike many boys is reluctant to marry a hotty like Diya and chooses to pursue his career instead. He ruthlessly rejects Diya's proposal. The next day he wakes up in a time that is 10 days ahead of the time he slept. The day after is 2 years ahead, the day after that is 4 years ahead, the day after that is 16 years ahead.
In these time lines he gets to know how bad things will turn out to be once his decisions are made. He meets his children and witnesses them drifting apart from him while Diya is divorcing him in the future. Now he has to figure out a way to fix or prevent the bad things from happening.
[button color="white" size="big" alignment="center" rel="nofollow" openin="samewindow" url="#"]The Review[/button]
BAAR BAAR DEKHO is a nonsensical and illogical movie hiding behind the  masquerade of a fresh movie. As a writer you should have the ability to let your imagination run wild and I totally agree with it, but you also have the responsibility to convince your audience or at least explain your imagination. In BAAR BAAR DEKHO the lead character without any logical explanation wakes up in future or past. We don't know how he travels that far, but for the ridiculous story's sake writer decided to make him travel in his sleep. I mean most of the movies have the courtesy to invent Time Machines and Black holes, but this movie even failed to do that.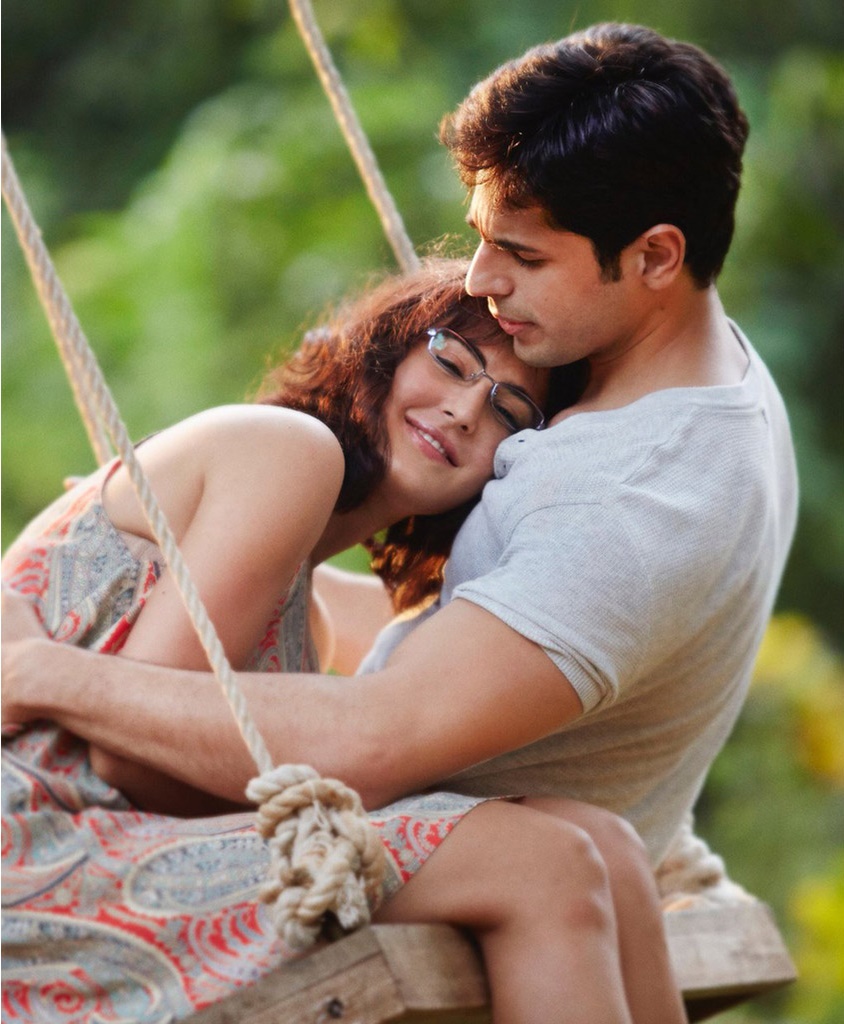 The problem of the movie is in its foundation. Making an ordinary obsessed Mathematician travel through time with undisclosed means just to be taught a lesson is flat out idiotic. Even if you forgive the undisclosed means of travel for a while what will bug you the most is the pattern in the travel. The writers tried to convey " That we should notice little things" through this movie, but himself never even bothered to fix little details.
The Writers came up with an idea and got so obsessed with it that they left gigantic and unforgivable plot holes throughout the movie. Only the songs were satisfactory in a movie overloaded with flaws. The only impressionable and delightful scene that happens in the movie is the first five minutes, where you can see the characters grow whilst a cute melody is playing in the background.
[divider]The Acting[/divider]
As far as acting is concerned it was highly under-performed. Though having a huge crush on Katrina, I was still depressed with her inability to properly cry or act in anyway. Sidharth also tried his best to under act his role and was totally successful. However supporting actors did their role splendidly. Actors like Ram Kapoor, Rajit Kapoor and  Sarika are the saving grace for the movie as far as the acting is concerned.
[divider]The Direction[/divider]
The direction couldn't have possibly resolved anything that the script initially screw up. The director Nitya Mehra did not do anything to make her  actors act or her screenplay make sense. Although the first five minutes still manages to gain my faith in her, and I think she might be more talented and promising director than she came out to be with this movie.
All in all BAAR BAAR DEKHO is in blatant words "a bad movie", I pity people who went out to see it or even read this article.