Gawking Geeks' cookbook for a ₹30K budget built PC
---
[alert type=green ]You don't have to break the bank to get into PC Gaming[/alert]
PC gaming is indeed a delight and owning a gaming is even more of bliss, however, pre-built gaming PCs from renowned manufacturers come at a pretty pricey M.R.P. which after taxes total up as a price tag that drowns us in the ocean of denial that is unavoidable. On the other hand, Custom PCs require much time in researching and planning out the configuration at a price bracket and people often end up buying incompatible or not value for money components.
Don't worry, Gawking Geeks to the rescue 😉
"PC gaming is indeed a delight and owning a gaming PC is even more of bliss"
We at gawking geeks are here to devote our time in planning and publishing systematic guides to purchase and get your own custom Gaming PC in a specific budget range so that you don't have to put yourself through the trouble of doing the research.
Few notes before we get into the parts rationale, the configuration is solely planned out for gaming therefore the major part of the budget was reserved for the most important part of a gaming build, the GPU so other components are chosen to have satisfactory specifications to help accommodate budget for a good GPU. Even though, the components are not lowered to unacceptably low end category as it would totally disrupt the purpose of the build which is to deliver satisfactory gaming performance at a surprisingly low budget.
[divider]So it begins[/divider]
Parts Rationale
[button color="green" size="big" alignment="center" rel="nofollow" openin="samewindow" url="#"]Processor A.K.A CPU[/button]
The pick of our CPU might disappoint few customers who were expecting something with 4 or more cores, well there's more than just cores and clock speed to look for in a CPU and even though the G3250 has only 2 physical cores which run at 3.2 GHz, it's 22nm Haswell architecture makes it utilize its each cycle of performance to the fullest helping in gaming titles that are not so CPU intensive. So stereotypic Intel.
Some may question about the 1333 MHz max memory frequency support to which the answer is pretty simple; use a 1600 MHz memory stick(s), it won't have issues.
[button color="green" size="big" alignment="center" rel="nofollow" openin="samewindow" url="#"]Motherboard[/button]
Our 4th Gen Pentium uses a LGA 1150 socket platform to sit on, and only 8th and 9th series Intel chipsets support that socket therefore we picked a motherboard with entry level Intel H81 chipset that lacks overclocking support and all the accompanying power supply circuitry muscle but has enough to run our Pentium to its fullest without any hitch as well as other components and yet comes at a budget friendly price tag.
The Gigabyte H81M-S1 is a small and tough board that in spite of being cheap doesn't cut costs on quality living up to the durability standards Gigabyte motherboards are known for. Other than that, it supports up to 16 GB of Dual channel DDR3 memory with speeds up to 1600 MHz.
[button color="green" size="big" alignment="center" rel="nofollow" openin="samewindow" url="#"]RAM[/button]
It's easy these days finding DDR3 memory at half the prices which they used to cost two years ago, all thanks to new DDR4 chips that have taken over (not completely though). One example would be our recommendation in this section, the G.Skill Ripjaws X Series 8GB kit which we found at an incredibly low budget for a RAM kit of its potential. G.Skill are true blue bloods when it comes to high end RAMs, holding many memory OC records and currently enjoying the top spot too.
We would've opted for DDR4 platform too but due to price constraints we couldn't and FYI the performance gain is not that much noticeable in 6th Gen based Pentiums running DDR4 vs 4th Gen ones running DDR3.
[button color="green" size="big" alignment="center" rel="nofollow" openin="samewindow" url="#"]Storage[/button]
1 TB is considered a standard size nowadays and budget restrain prevented us from getting a 2 TB HDD and unfortunately, there has been a sudden price hike in storage prices however, the WD Blue yet comes at an attractive price tag that makes buyers totally misjudge its performance figures the sad part is that it comes in maximum 1 TB capacity so if you can or want to move up to 2 TB then you might want to get WD Black or even Seagate Barracuda 2 TB 7200 RPM HDDs. WD have been an old player in their zone, and with years of constant evolution, the Caviar Blue series has evolved to be the fastest 1 TB HDDs in the market when it comes to its price segment. Speak of reliability and you have outstanding endurance numbers too. Sure the specs may look standard, with 7200 RPM spindle spin rate and 64 MB cache buffer to speed things up a little, but the single 1 TB platter design reduces seek times to bare minimum and doesn't make you feel you're not on the premium side of things at all.
Storage is a very flexible option so you can go your ways in this part without hurting much performance.
[button color="green" size="big" alignment="center" rel="nofollow" openin="samewindow" url="#"]G.P.U[/button]
Here comes the jewel of every Gaming PC and the subject of pride of any PC gamer, the GPU a.k.a the Graphics Card. The most important stuff to play games at your preferred visuals, therefore you can see that this is the most expensive part in our build because this is the part which deserves this much reservation of the budget at any budget of any gaming build.
The Radeon R7 250X is not a new kid on the block rather it is a matured player which has seen the gaming PC industry under the alias of Radeon HD 7770. Yes, like most of the Radeon R7 200 & R9 200 series GPU, this too is a rebranded HD 7000 series card that has the same 28nm Cape Verde XT GPU based on GCN architecture which thumped 7770's heart. The card can't promise framerate as high at 60 fps on 1080p at ultra but it can deliver over 30 fps in medium to high in some titles. However, this is perfectly suited for a 1366×768 display if you want to crank up the settings a bit. And don't worry about the 1GB VRAM, it's GDDR5 and it is way better than having a slower 2GB of GDDR3 VRAM.
Make sure to ensure yourself that it's a R7 250X and not simply a R7 250, the latter being a slower sibling of the former.
There weren't many R7 250Xs available online so we suggest the only one that we found available and it comes from an all AMD board partner, Powercolor. The card has an auxiliary fan to keep temperatures under control while you game peacefully.
Or if you want some more performance from the GPU and you are willing to pay a little premium, the check this out!
The GeForce GTX 750 Ti was the first card which was released featuring the 28nm Maxwell architecture and the GM107 thumping as its heart has matured over the period since it was launched and it still beats strong as the GPU chip targeted at 1080p med-high gaming when the gamers can't extend their budget for a GTX 950. Don't fret knowing that GTX 750 Ti is an old chip now, at this budget this is the best you can get and that too at sipping power consumption of 70-80W. FYI, the shiny GTX 960M and GTX 950M included in those shiny 15" gaming laptops have a GM107 core as well so the performance is more or less same with the 750 Ti bettering its mobile counterparts (if you were thinking the otherwise). Zotac is offering a pretty decent GTX 750 Ti at an attractive price. And this card runs pretty well and won't give you any restrictions while gaming, telling by the experience of a very close friend who's a DOTA 2 and Warframe pro and has been using this very card from Zotac since two years rock solidly.
[button color="green" size="big" alignment="center" rel="nofollow" openin="samewindow" url="#"]Case/Cabinet[/button]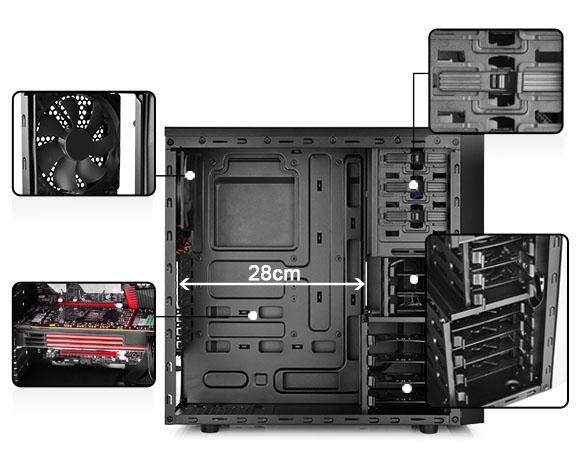 Well in our "case" (ba-dum-tss), Deepcool Tesseract BF was a steal, it looks good, it is very spacious inside so that one can have room for cable management for clean looking builds, it has pretty nice airflow for the cases in its budget and all that for under 3 grand, now that's amazing. We wanted to go for the tesseract SW which is the transparent side panel version for a little price premium but it wasn't available so we ended up with this. But if you need side panel very badly then you can opt Antec X1-T or you can also go on your own way in case of case (pun intended) just make sure it doesn't choke up the shiny hardware inside.
[button color="green" size="big" alignment="center" rel="nofollow" openin="samewindow" url="#"]Power Supply Unit/SMPS[/button]
We needed to power up the rig right? The Corsair VS450 is a 450W PSU which has enough juice to power our cherry picked components safely and quietly. One thing to look for in a PSU while building a gaming rig is the current rating given in Amperes (A) on the 12 Volt rail as it the voltage rail that powers the critical components like CPU and GPU, the higher the better. Thankfully our VS450 has 32 Amps on +12V rail that equals to nearly 380 watts for CPU and GPU alone. And always keep at least 80W on reserve on power wattage, in simpler words, if the total power consumption of your rig is around 300W, buying a 350W PSU is not a smart choice, rather getting a 450W results in safety rather than overkilling.
Remember PSU is a component in which if you cut costs, it will backfire taking down every other component with itself, therefore, never ever go cheap on the PSU and always buy branded PSUs from renowned manufacturers after reading reviews about it.
[alert type=white ]Recommended Buy (Optional)[/alert]
Well a cheap CPU cooler won't harm the rig anyway and even though its cooling prowess isn't as good as the Cooler Master Hyper 212X but remember we are not talking about overclocking and it is only to keep the CPU cool under long duration of gaming sessions when the load is continuous for a prolonged period. This cooler is sure is entry level but totally better than the stock fan that comes with the Pentium.
The final parts list and price breakdown is given below :
PCPartPicker part list / Price breakdown by merchant
With this we conclude our build guide and hope you liked it and this cleared off the cloud of confusion hovering between you and you next gaming PC.
Problems and queries are undertaken under the comments section and your opinions are most welcomed. Long live the Master Race.