It is not just a form of animation hailing from Japan, it is now more of a culture having gigantic fanbase. And last decade, we witnessed a massive boost of Anime in India. People born in the 1990s and early 2000s owed it to the nostalgic airing of shows on Cartoon Network, Toonami, and who could forget Animax. Smartphones and internet streaming moved these popular animations to online media.
Here we list free and paid platforms where you can legally stream Anime in India.
Stay away from piracy
People might also come across or are already using some of the illegal streaming platforms to watch anime. But it is not only bad for the production houses, but also for viewers. These sites are malicious in nature and go without saying that nothing in this world is free (except our articles). And the fact these websites conflict with your anti-malware application says a lot about their credibility.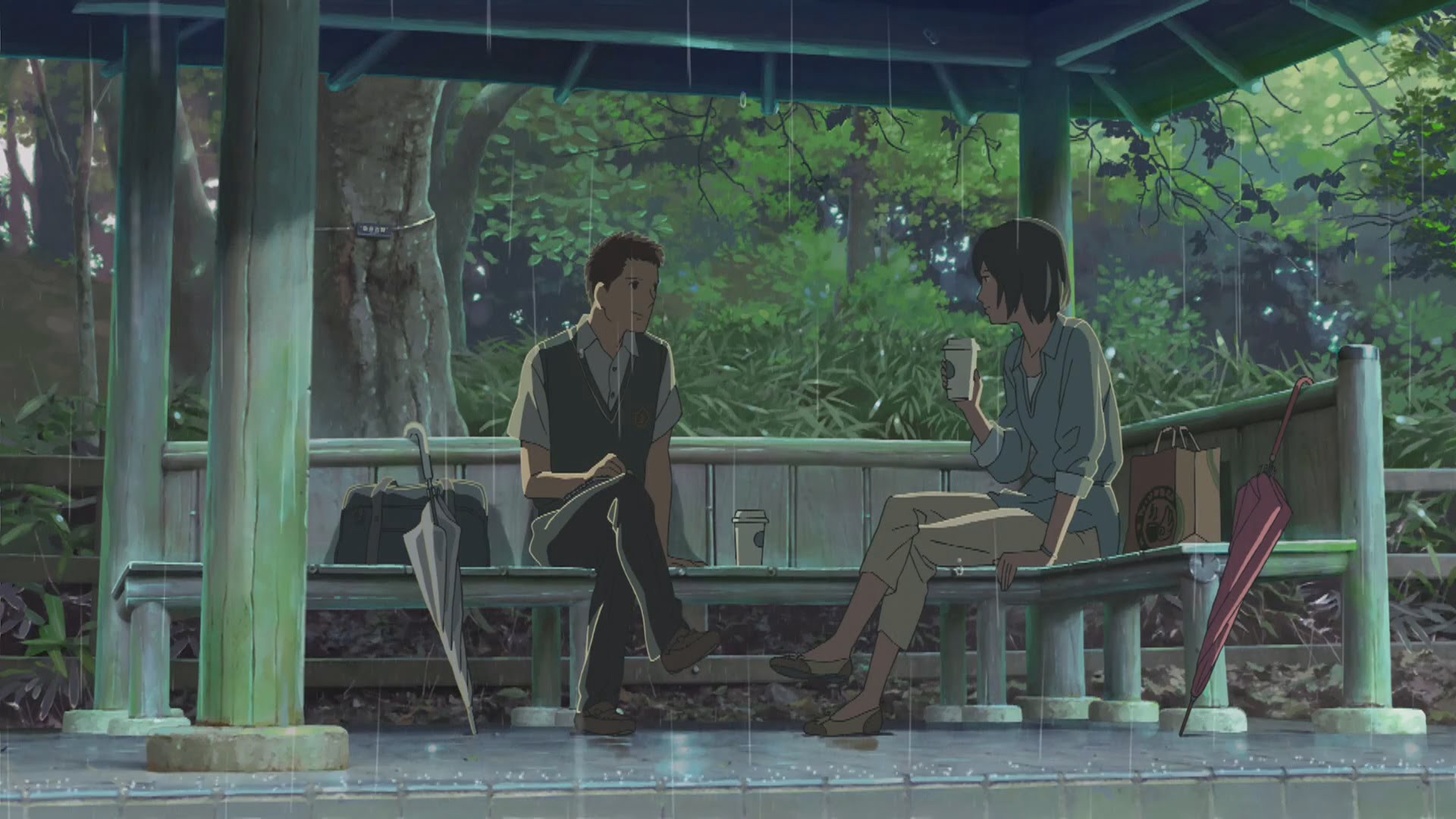 List of legal Anime streaming platforms in India
Let us make your Anime content consumption much enjoyable, easier, and immersive.
Crunchyroll. (Free/Paid)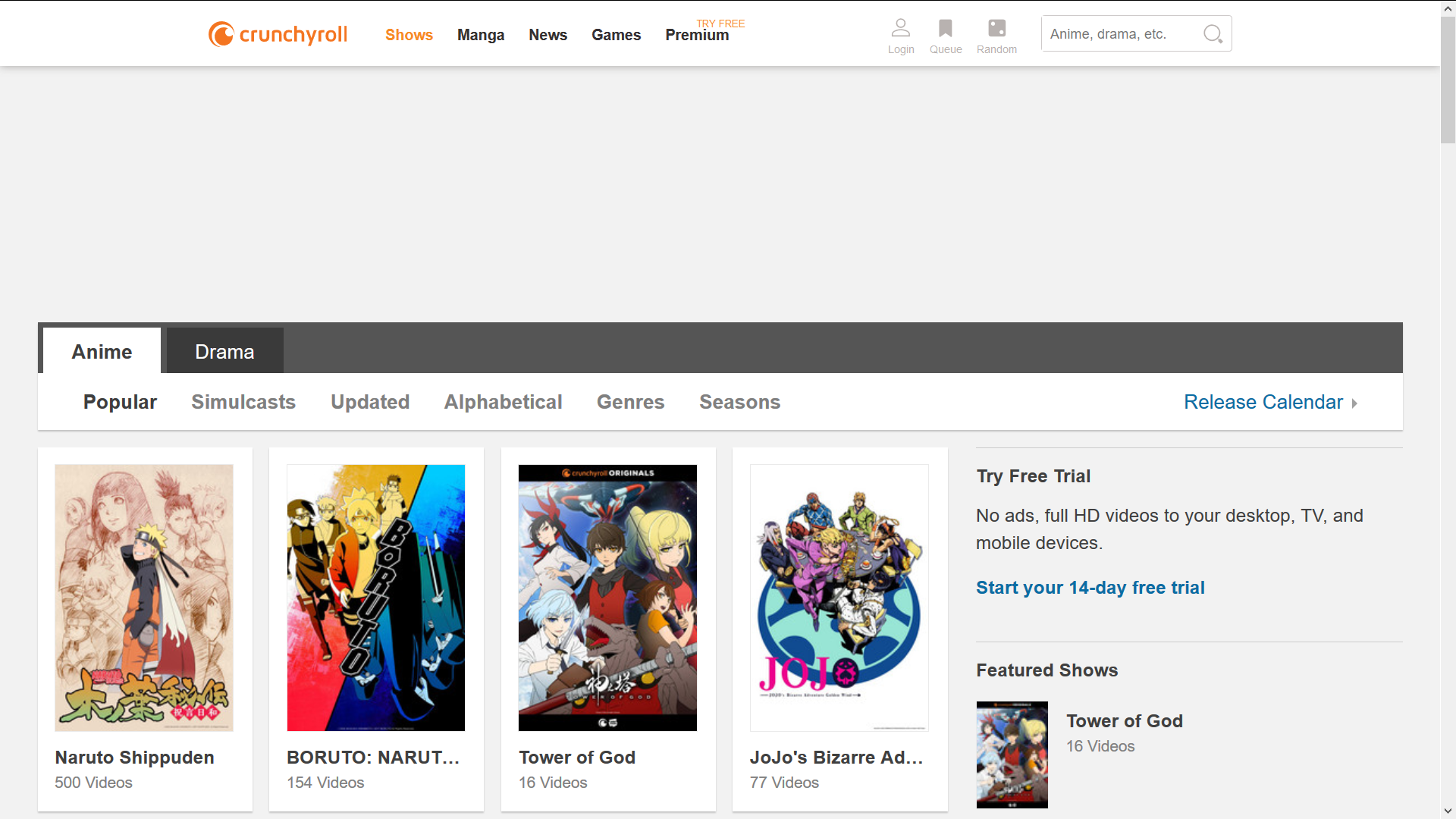 The platform is synonymous with Anime. If Crunchyroll was not there then anime won't be on the internet. Crunchyroll did it before the popular services started adapting to huge Anime libraries, and because of Crunchyroll, they knew that Anime could make more money.
Crunchyroll is tailored for the anime enthusiasts and is the definitive anime streaming platform. The order of episodes for any series is sorted in descending by default, it shows how ardent their userbase is to anime, staying up to date with every show's every episode. The content is mostly English subbed but that is how most people into anime 'roll' (see what I did there?). It also has one of the largest anime and drama collections of any platform.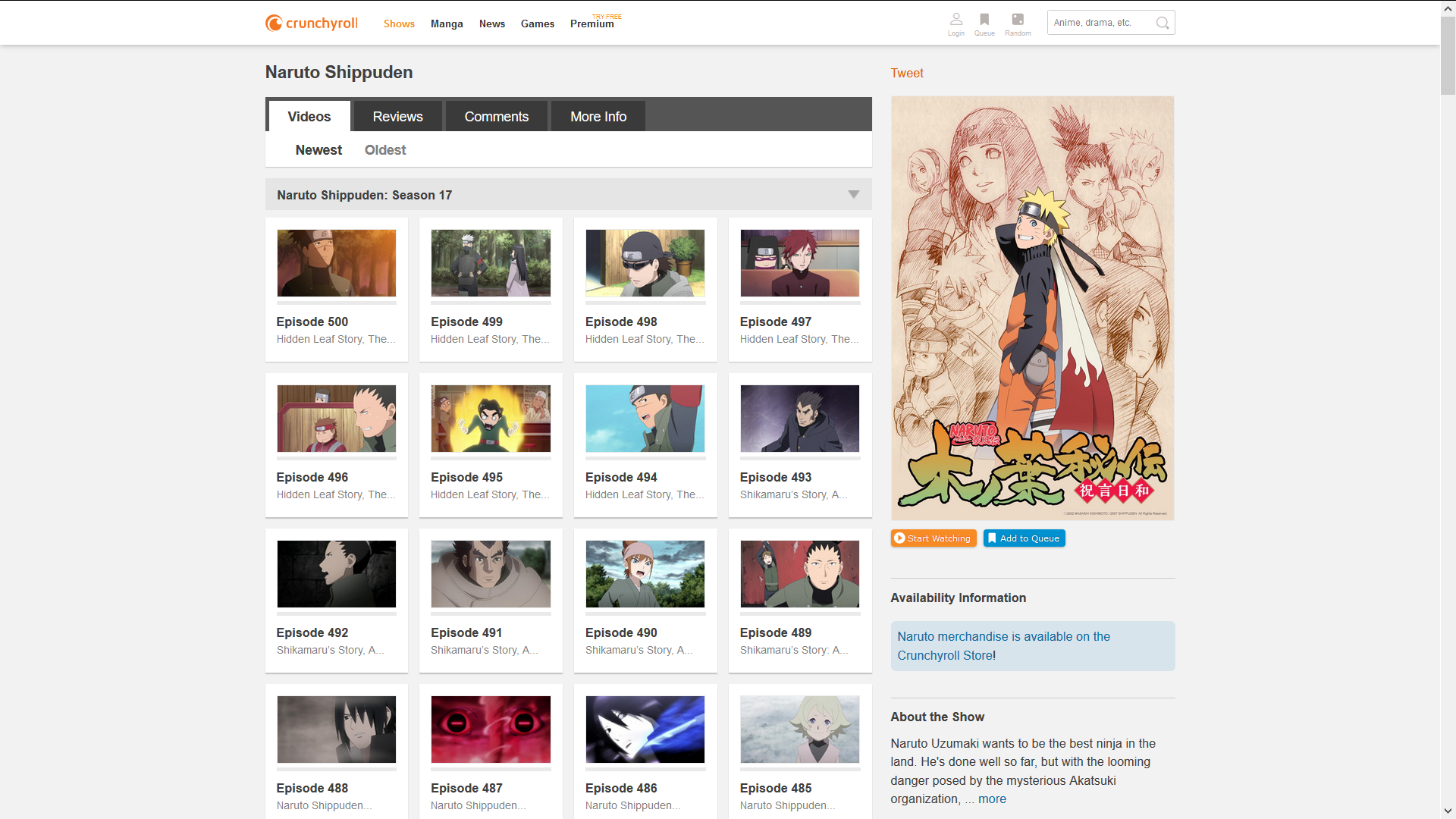 And, yes, the free version has ads and it's paid subscription lets you stream at a higher resolution to watch the latest episodes straight from Japan. Apart from that, the streaming service is fast, hassle-free, and streamlined. Except for the aged and plain-looking early 2000-ish UI, which the veteran anime fans abide by, there isn't much to complain about the service. It also has apps for every major platform and OS like, Android, iOS, iPad OS, PlayStation, Wii, and Xbox consoles, Chromecast, and even Windows Phone.
Noticeable titles: Attack on Titan (Season 1-3), Bleach, Cowboy Bebop, Fullmetal Alchemist: Brotherhood, Black Clover, Sword Art Online, My Hero Academia.
Pros
+ Sheer volume and variety
+ Free content
Cons
---
Netflix (Paid)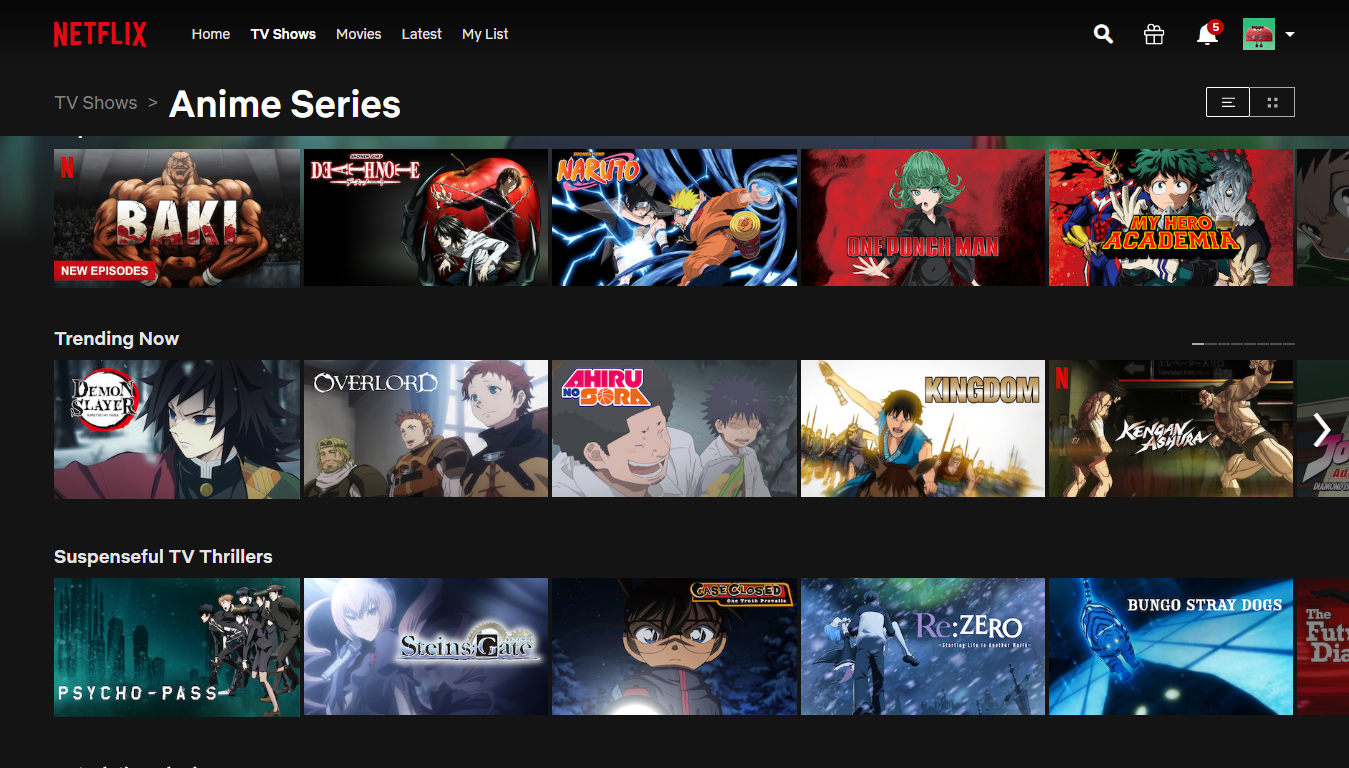 This comes as a surprise for many, but Netflix being omnipresent worldwide and catering to varying demography had to have a decent anime collection. It is, mind you, not at all as big as dedicated anime platforms like Crunchyroll or Funimation but has a smart selection of anime and even originals! The sheer width of its userbase, they have multiple audio and subtitle track options adding to the versatile and pleasant watching experience. It is the only place where you can stream Neon Genesis Evangelion, one of the best 90's anime, online. They, however, lack in one thing, having a complete set of long shows. We assume this is because of licensing issues but it is quite a bummer not having the complete Naruto series or Bleach series present. With that being said, it is indeed fully paid service with no free streaming options but worth every penny.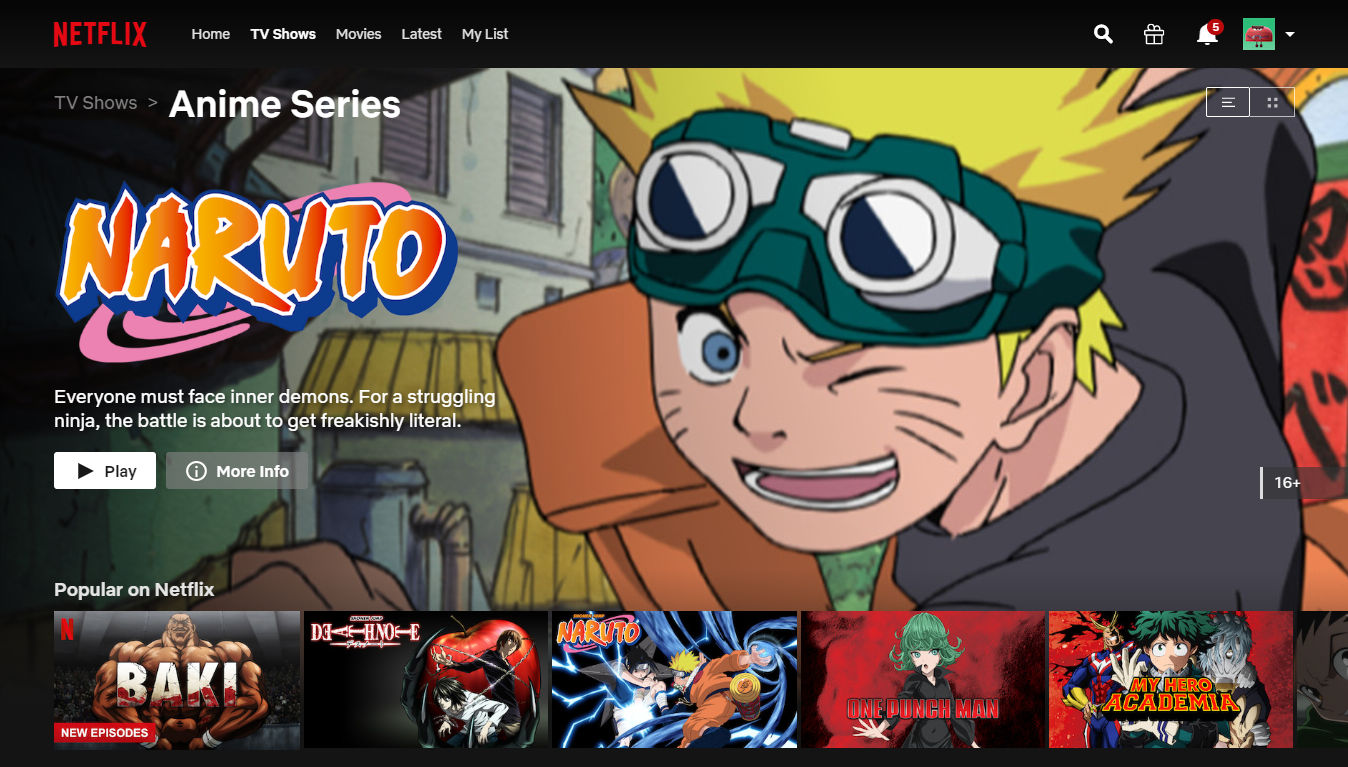 Noticeable anime: Neon Genesis Evangelion, Castlevania, Devilman: Crybaby, Aggretsuko, Little Witch Academia, One-Punch Man, Death Note, Bleach, Blue Exorcist, and (outside the US) Spirited Away, Howl's Moving Castle, My Neighbor Totoro.
Pros
+ Stupendously well selection of anime.
+ Not a dedicated anime platform.
+ Neon Genesis Evangelion. Period.
Cons
– Adequate but limited collection
– No free streaming
---
Amazon Prime Video (Paid)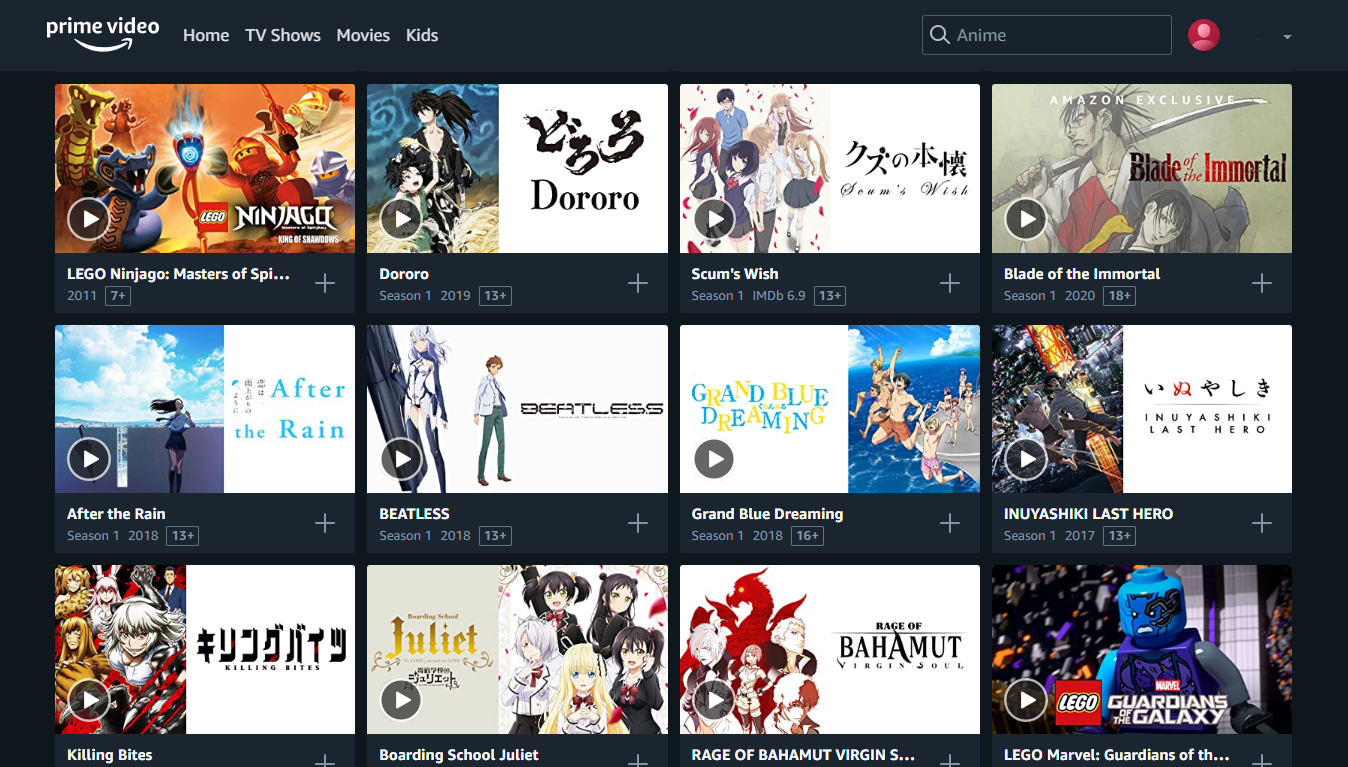 Let us be honest here, they do not have much variety when it comes to anime. Because, like Netflix, they are a more versatile platform, having shows and movies of every genre and with a Music streaming/downloading service, E-bookstore, and E-commerce benefits on Amazon.in. Also, like Netflix, it does not have free streaming. But they are already offering plenty for a reasonable price. However, if, you want to, then use the Japanese region in your VPN to get a huge library of anime on Prime Video. If VPN is not an option, you may still go with pretty good shows and movies (like Makoto Shinkai's masterpiece, 'Your Name') albeit smaller in number.
Noticeable anime: Boy and the Beast, Mary and the Witch's Flower, Your Name, Grave of the Fireflies, The Red Turtle.
Pros
+ Bundled services
+ Reasonably priced
Cons
– Extremely limited variety
---
Funimation (Free/Paid/VPN only [tested region: US])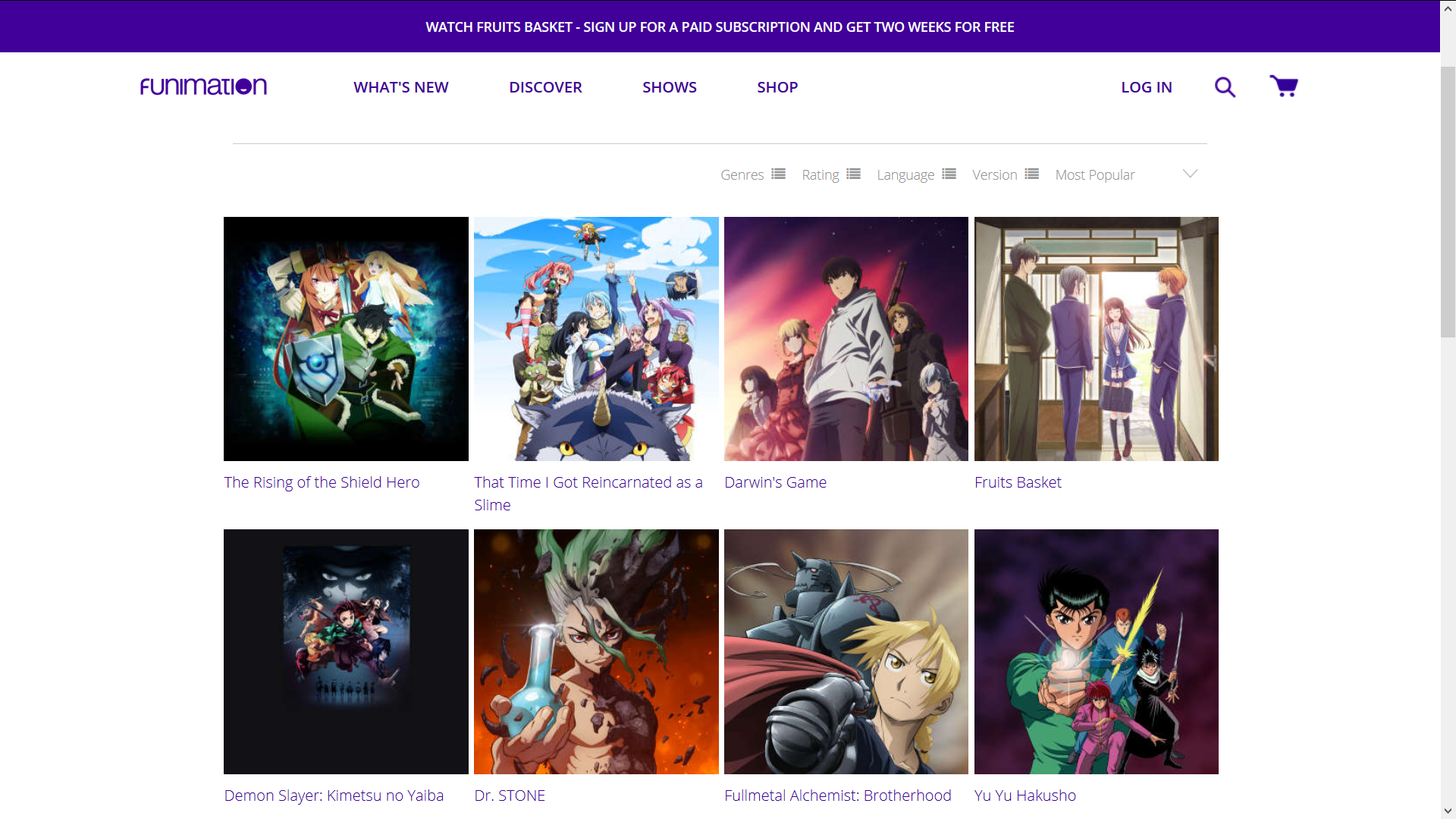 Yeah, I know, it is a pain with internet speed to use the VPN. But apart from that, if you are into dubbed Anime then this platform would make you feel like home. Being a dedicated anime streaming platform, the library shares a part with Crunchyroll's but sadly they've both parted ways from each other. The availability of a full Dragon Ball franchise (again; tested on US proxy). Just like Crunchyroll, there is a free version with ads and a paid one without ads and higher resolution streaming. And is also available on most platforms in use, like Android, iOS, etc.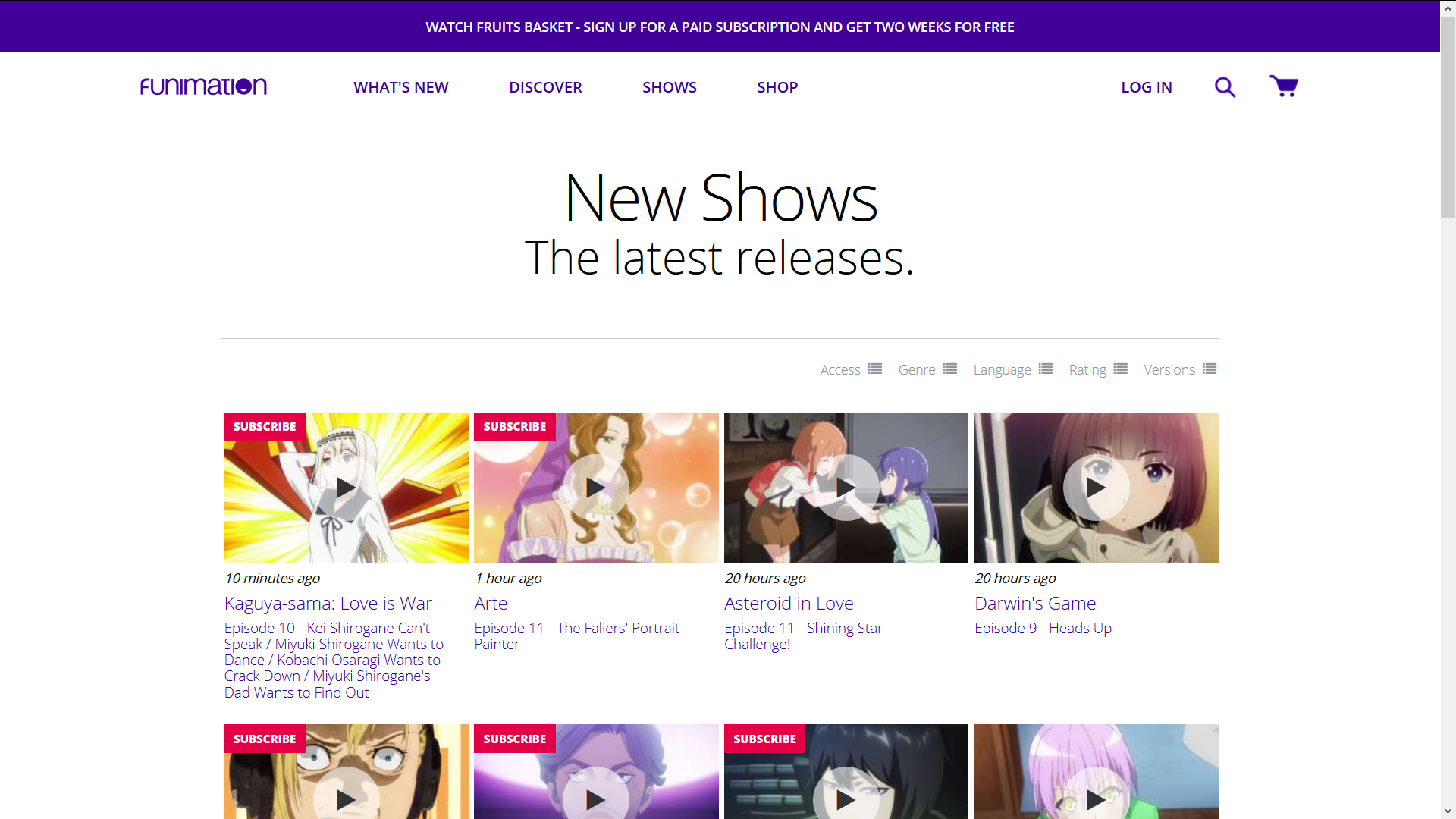 Noticeable anime: Attack on Titan, Fairy Tail, My Hero Academia, Assassination Classroom, Mob Psycho 100, Yuri!!! On ICE, Dragon Ball (the US only: including Dragon Ball Z, Dragon Ball Super, Dragon Ball Z Kai, and Dragon Ball GT)
Pros
+ Free content
+ Dubs for those who prefer
Cons
---
Retro Crush [BETA] (Free/VPN only [tested region: US])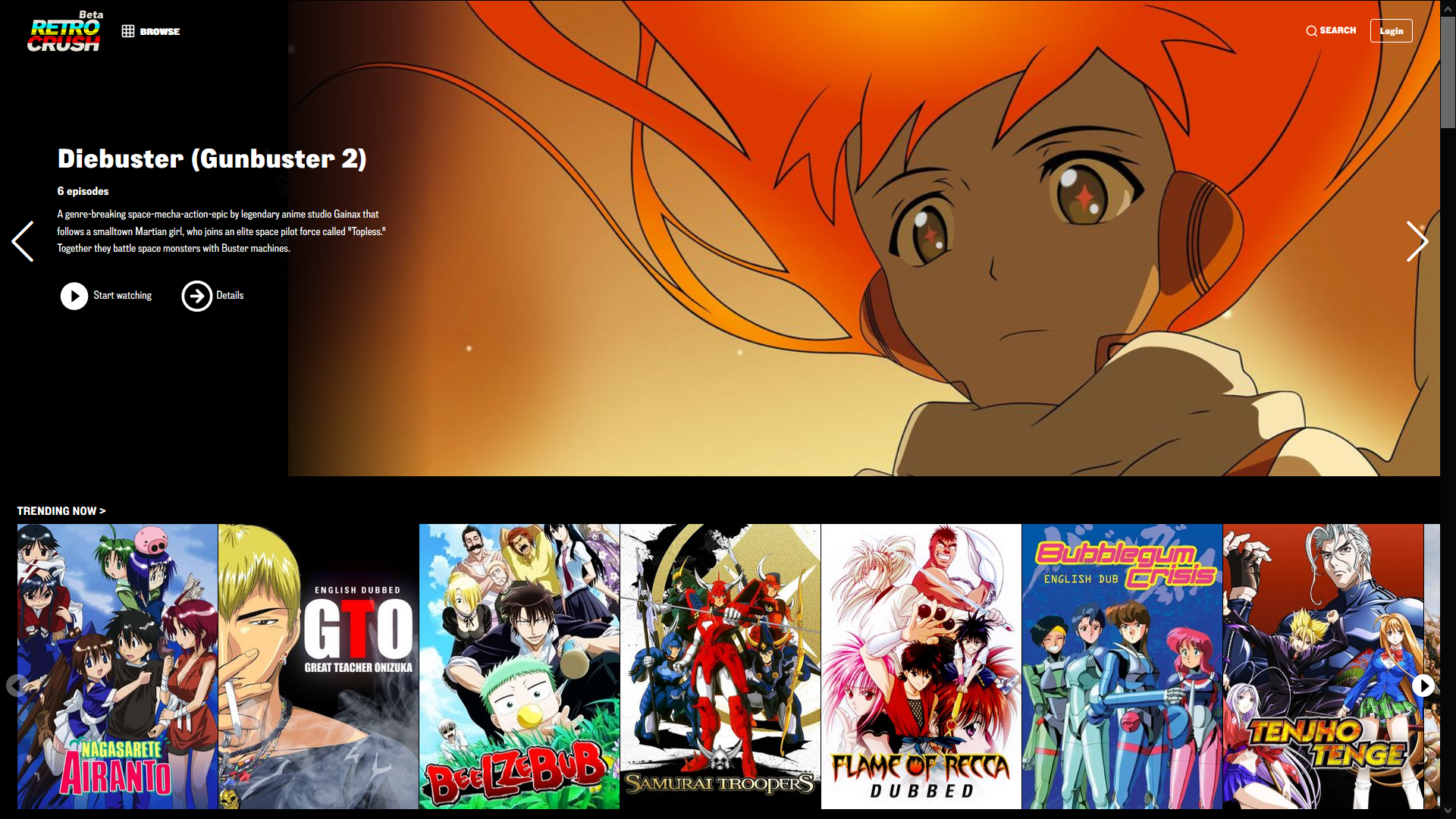 Most of us like Retrowave aesthetics, there is a very calming feeling about the 80s and the retro culture. But if you are really into 80's anime, Retro Crush is heaven for your needs. It has a big collection of filtered retro shows like Great Teacher Onizuka and Lupin the Third, etc, and is ever-growing. Retro Crush is however aimed for the niche but is worth trying. The collection is so cool that we don't actually mind paying for more content and fortunately, it is completely free.
Noticeable anime: 1998's Devil Lady, 1979's Galaxy Express 999, 1983's Golgo 13, 1982's Space Cobra Adventure, and 1984's Urusei Yatsura.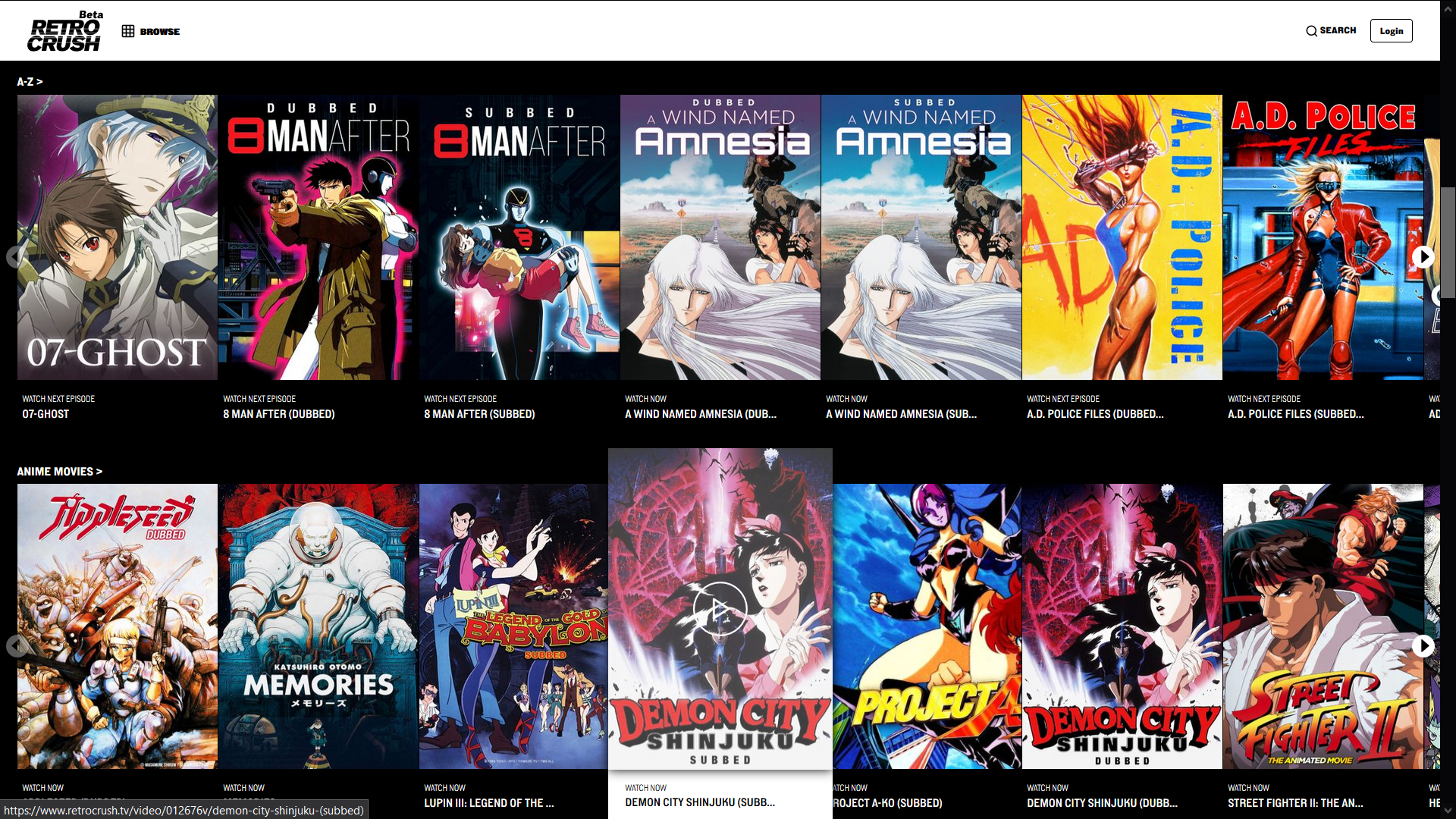 Pros
+ Free service with very few ads
+ Exclusive retro series and movies
Cons
– Small anime library
-in the BETA phase.
---
To conclude
The list is comprehensive for a country where having mature content in animations is rebellious and mixing up cartoons with anime is a trend. People who watch anime are often mocked by their own peers. But, fortunately, this trend is deteriorating as anime is gaining momentum. To help the community to grow, we must stop piracy of anime. It is high time anime gets the appreciation it deserves.
We can expect more and get satisfy with whatever we have. Share this list with your friends and enjoy binging on some of the finest animations from Japan. If we somehow miss out on anything please let us know in the comments.
If you like our content, please drop us a follow-on Instagram @gawkinggeeks.