Asus Z97-A is probably the best motherboard you can get your hands on if you have a tight budget under 15K in India. The specs are massive and offer out of the box performance. Gawking Geeks recommends Asus.
[dropcap size=small]R[/dropcap]ight when you need high end features at not so high end price, this lower-mid budget Z97 OC friendly ATX board from Asus delivers durable performance and features such as SLI support, 8 phase DIGI + VRM design, Sata Express port and M.2 slot support without burning a hole in your pocket. If you are not that deep into PC hardware, yet I would suggest you to read on to brush up your knowledge about the most motherly component, the Motherboard. Providing an excellent platform for your performance targeted LGA 1150 build, speaking of which, one thing strikes the headlines that Asus had recently released BIOS updates for most of its 9 series motherboards to support the upcoming 14nm 5th Generation Intel Core series CPUs.

► Intro: It has been a while since the Z97-A came out of the Asus pavilion but unfortunately we weren't able to get a sample then. Nevertheless, it's better to be late than never and with 5th Gen Core CPUs coming up, this might be the right time to scrutinize this piece of silicon. We heartily thank Jayant Jeet Tomar from Cyber-Tech-Indiana for providing us the review sample. Now, without wasting any more time, let's get started by having a quick keen look at the packaging and contents.
---
► Packaging and contents: The board comes in a mid-sized cardboard package which looks something like this…
---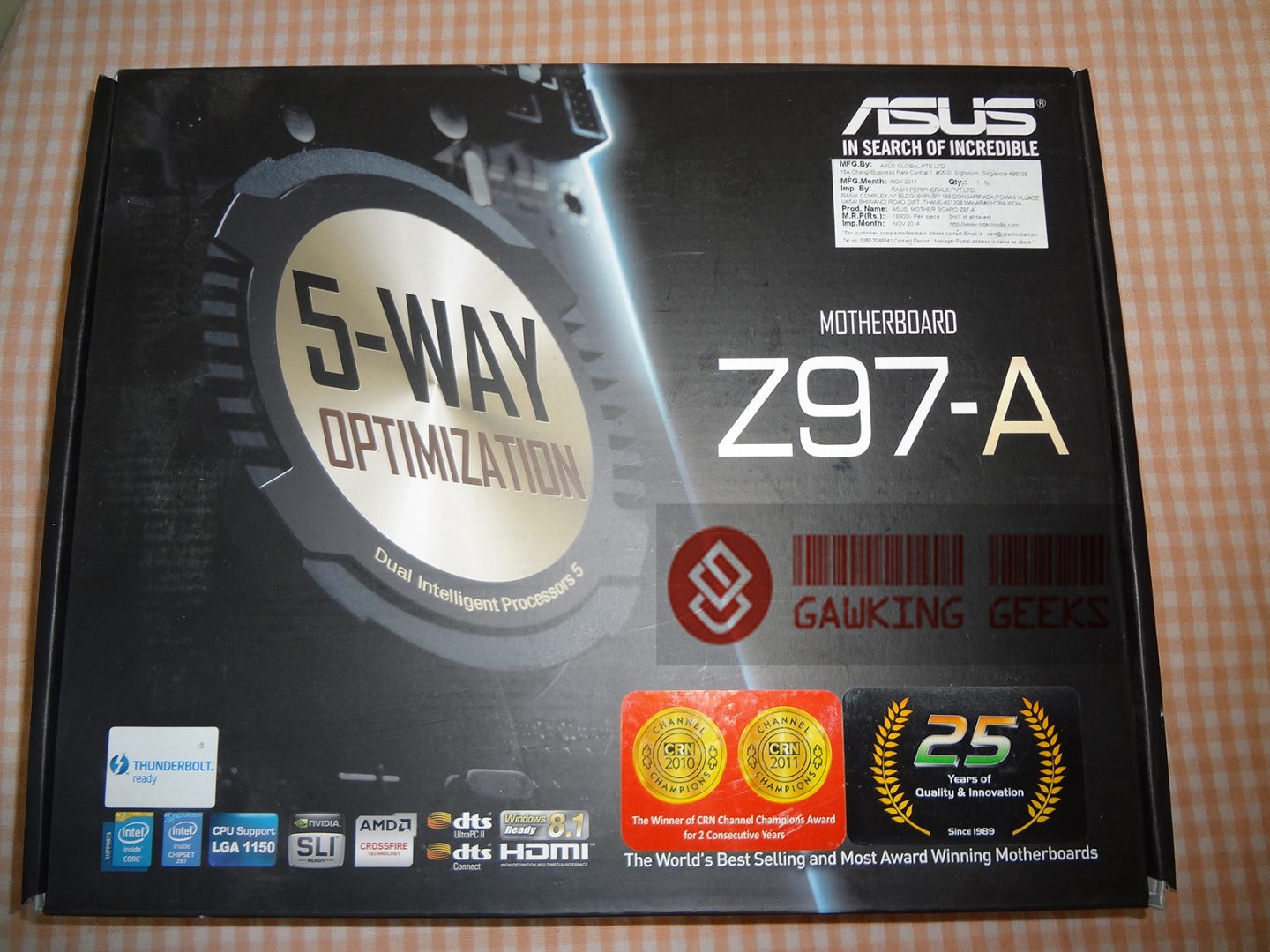 As you can see, the box features the standard visual illustrations of the Asus' Z97 line up which features the signature round PCH heat-sink with gold and black accents. The front of the box provides some information about the features that are supported, its Thunderbolt® ready sticker, supports Intel's LGA 1150 CPUs, based on Intel's Z97 Express chipset (you don't say!), supports NVIDIA®'s SLI (something which is not supported by most of the low end boards) and AMD's CrossFire multi GPU set-ups along with Windows 8.1 support out of the box, DTS UltraPC II and DTS connect support and HDMI support (bleh).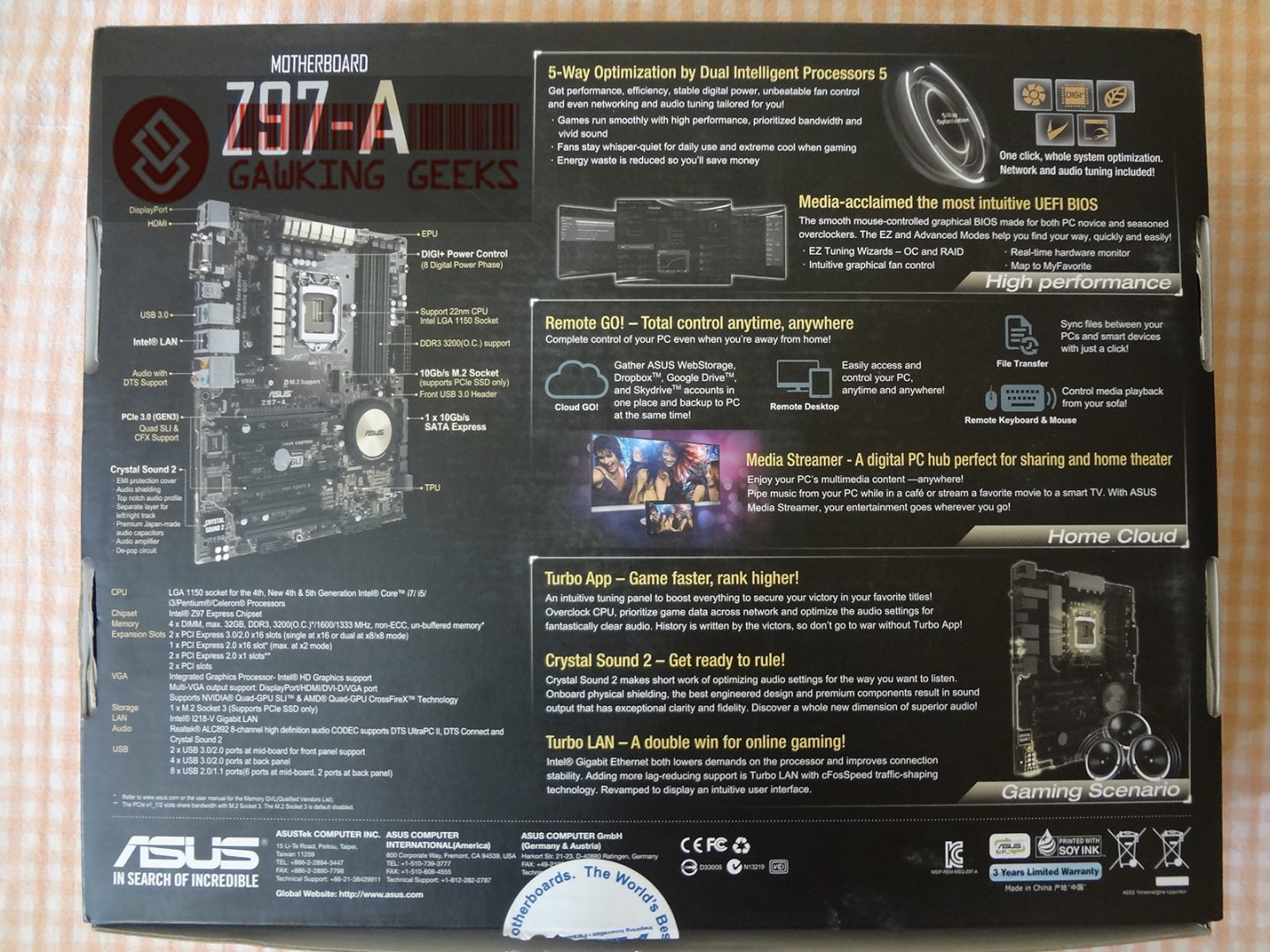 Flipping the box over, you'll see detailed explanations about the 'handy' features like RemoteGO!, Media Streamer, Crystal Sound 2, etc. and at the bottom left there's a summarized specification sheet along with a quick overview of board layout on the top left…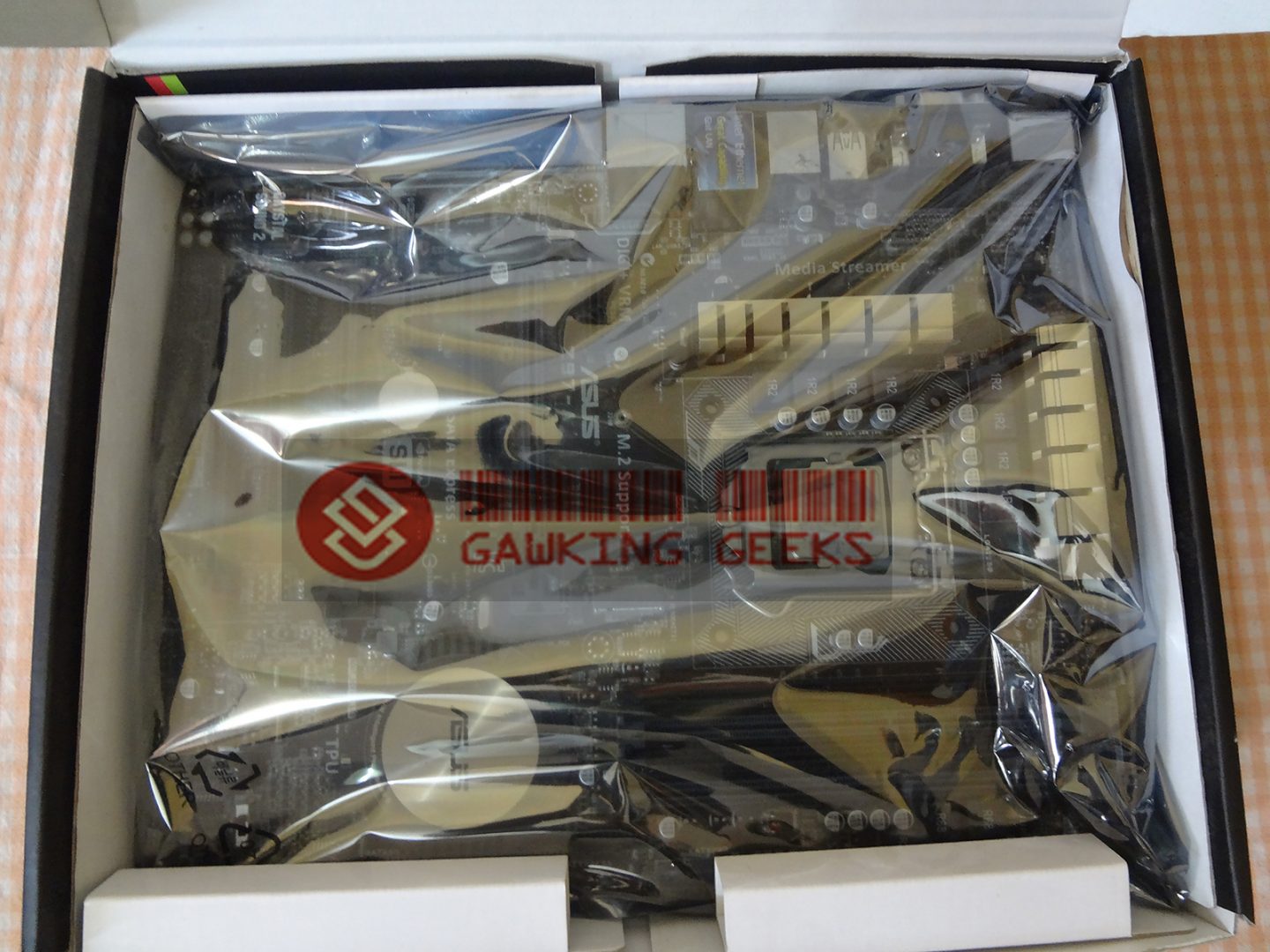 On opening the package, you'll see the motherboard itself wrapped in anti-static packaging.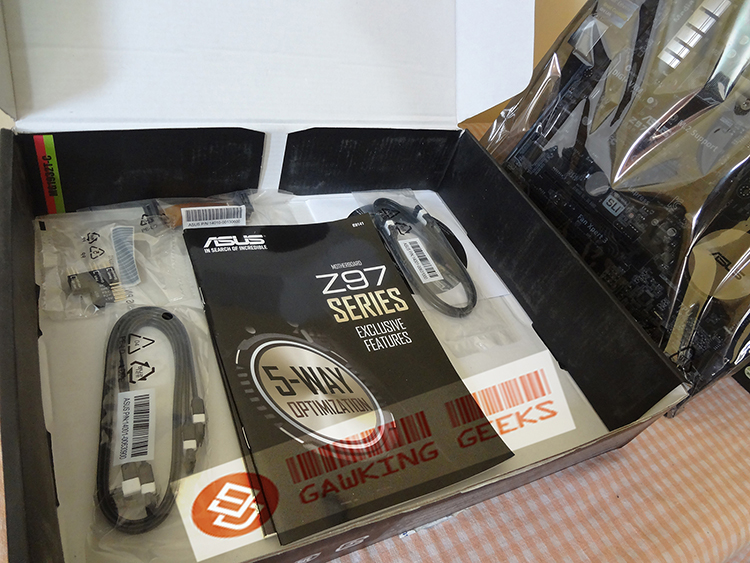 Below the motherboard, lies the rest of the goodies that come bundled up, namely,
Three SATA cables (two of them are straight and one is right-angled)
Driver disc
User manual & features walkthrough
Rear I/O shield
An Asus branding case badge
Asus Q-connectors (I'll explain about their use soon)
And a two way SLI bridge (much win!)
[divider][/divider]
So that's all about the box and the package you'll get in the box. Now let's have a snick look at the specifications of the board and a closer look at the features this board has to offer.
► Specifications and a closer look :
---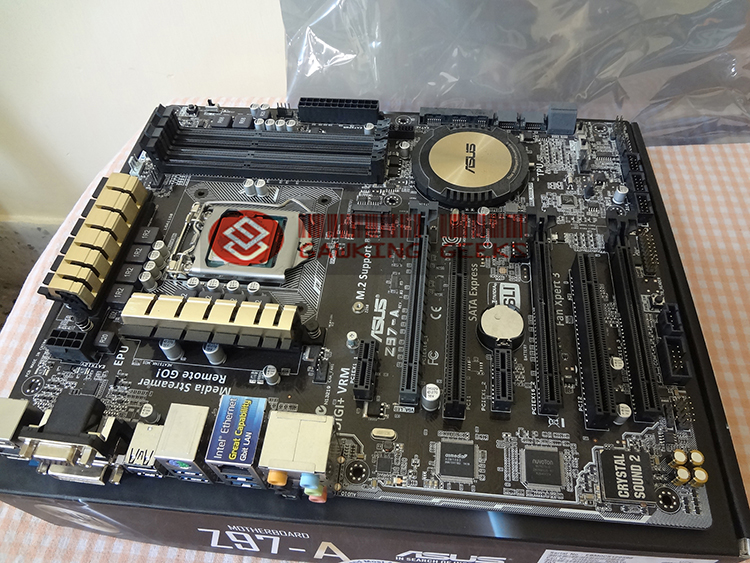 Right after you take out the board from its anti-static sheath, the ATX form factored brownish black board with metallic gold accent puts a smirk on your face and you might wanna sit back and admire the beauty of it. Indeed nerdvana.
Specification list :
CPU Socket & iGPU        
Intel FCLGA 1150 , iGPU dependent on CPU installed
Chipset and Expansion provisions
Intel Z97 Express
2x PCIe x16 rev 3.0/2.01x PCIe x16 rev 2.0 (running at max x2)2x PCIe 2.0 x1 2x PCI legacy (trough ASMedia controller)
Rear I/O ports
4x USB 3.02x USB 2.01x DisplayPort1x DVI-D1x HDMI port1x VGA port

5x 3.5mm Audio jacks + 1x Digital audio out

1x RJ45 LAN (through Intel I218 Gigabit LAN)

1x PS/2 Keyboard+mouse port

Memory
4x 240 pin DDR3 DIMM slots supporting up to 32GB of DDR3 with speeds up to 3200 MHz+ with overclocking
Audio
Crystal Sound 2 (Realtek ALC892 Hi Def Audio CODEC) Secluded PCB for audio components to avoid interference. 5x Audio jacks + 1x digital audio out  
Networking
Intel I218V Gigabit LAN
BIOS
64 MB Flash ROM 'Crash-free' BIOS v3/ AMI-UEFI
Form Factor and dimensions
Standard ATX, 30.5 cm x 24.4 cm
Internal headers and switches
2x USB 3.0 front I/O headers.6x USB 2.0 front I/O headers.4x 4-pin PWM case fan headers.
2x 4-pin CPU fan headers controlled via Fan Xpert 3 bundled utility.1x Power On/Off button.
1x EZ XMP switch.
1x TPU switch.
1x EPU switch.1x MemOK! Button.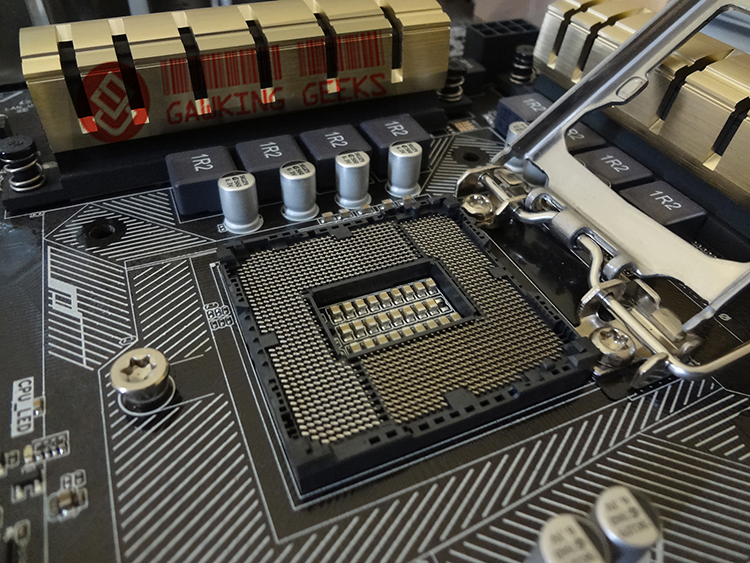 ►► CPU support :
Intel FCLGA 1150 (Type H3) supporting 4th Gen Haswell CPUs from Core i7/i5/i3/Pentium/Celeron families along with support for Haswell refresh CPUs (Devil's Canyon for example) and we do have a word on upcoming 5th gen support. On board graphics are dependent on the installed CPU.
►► Chipset :
I/O interface and Expansion options : Standard Intel Z97 Express PCH options :
►► Storage interface :
6x SATA 6.0 Gb/s (via Z97 controller)
1x SATA Express 10Gb/s header (for the fast SSD(s) feels)
1x M.2 Socket 3 (more win)
There are a pair of front panel USB 3.0 headers and three pairs of internal USB 2.0 headers.
►► Expansion card provisions :
2x PCIe 3.0 /2.0 (the grey one at the top complies with revision 3.0 standards) which could run at single x16 or dual x8 configuration supporting up to two AMD GPUs in 2-way CrossFire or two NVIDIA GPUs in 2-way SLI (mind you that SLI isn't supported by inferior Z97/Z87 boards)
1x PCIe 2.0 x16 (running at x2)
And 2x PCIe 2.0 x1 slots for PCIe SSDs or WLAN cards/ WiFi adapters, etc.
Along with this, the board has two legacy PCI slots through a third party ASMedia ASM1082 controller (top right flat chip in the picture, marked "Asm") that could hold onto your PCI sound card or even older network cards/modem. Another 3rd party feature is the Nuvoton NCT6791D (right below ASM1082 in the picture marked "Nuv") thermal sensor which doubles up as an I/O signalling booster.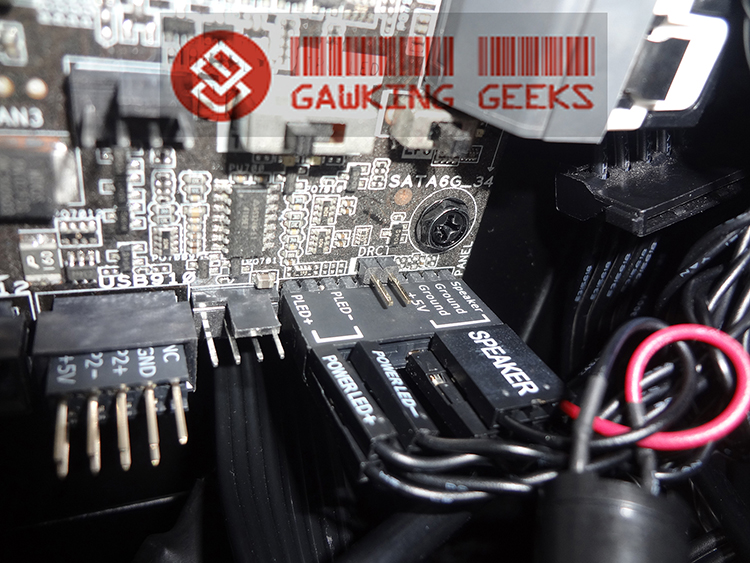 The Asus Q-connectors about which I told you earlier have a pretty decent and handy use, it actually acts as an interface between the motherboard's front panel connectors and the case's cables for the purpose. It lets you to hook up the cables onto itself and then simply connect the whole bunch to the board's header like shown in the picture.
►► Audio :
The board uses a Realtek ALC892 Hi-Def Audio CODEC which powers the Crystal Sound 2 audio setup. Secluded Audio components from the rest of PCB is a nice thing to do since most of the manufacturers are doing this on even entry level boards.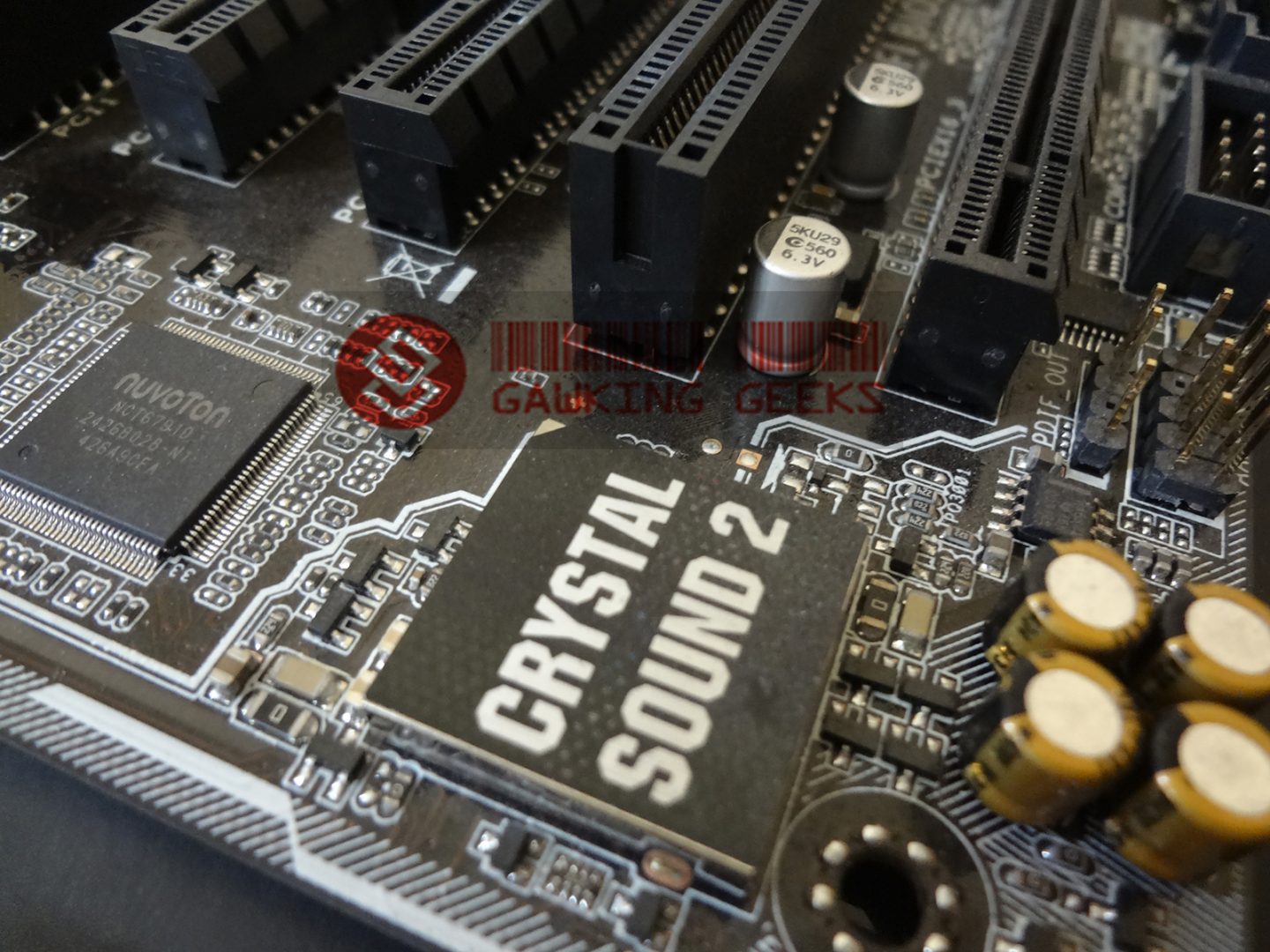 The Crystal Sound 2 setup uses dedicated audio capacitors (gold caps in the pic) and caters decent audio quality to gamers but it lacks that SupremeFX ROG class finesse but hey, we just can't compare a 13K board to a 20K+ one.
►► Rear I/O interface : 
The rear I/O includes an array of visual interfaces: a DisplayPort, a full size HDMI port, a VGA port and a DVI-D.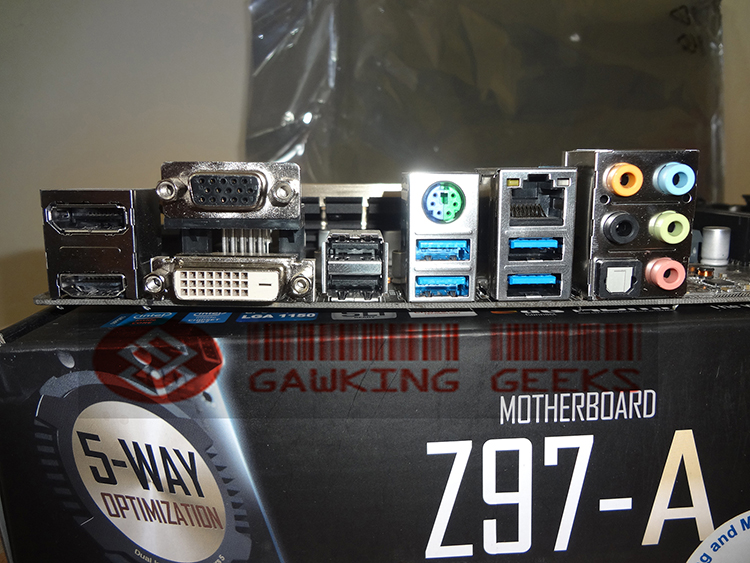 Device connectivity options are kind of standard here, adequate but no cigar for the selection. 4x USB 3.0 and a pair of USB 2.0. There's also provision for a PS/2 device. The RJ45 port is always welcomed and the Network In Controller here is not from some fancy gaming NIC manufacturer (hinting Killer) or Qualcomm unlike the alternatives from Gigabyte Technologies (G1.Gaming series), MSI (Gaming series) or ASRock (Fatal1ty series), rather it is a standard Intel I218V Gigabit LAN NIC. Then there's 6 audio out ports one of which is digital and rest are analogue.
►► Power delivery system :
Asus is one manufacturer which is known for its generousity in providing quality PWM components even on the entry level boards. Giving priority to quality than quantity, and abiding by its reputation, the Z97-A is no exception and the power delivery system bleeds quality in every sphere. The CPU is fed by 8 independent DIGI + VRM phases providing decent OC potential. The CPU phases are cooled by the passive gold accent heatsinks.
The power is fed by an eight pin EPS power connector. And the capacitors are rated to be tested for 5K hours. The DRAM DIMMs are powered by dual phased DIGI + VRM PWM design that supports OC speeds up to and above 3200 MHz ( *sigh* ).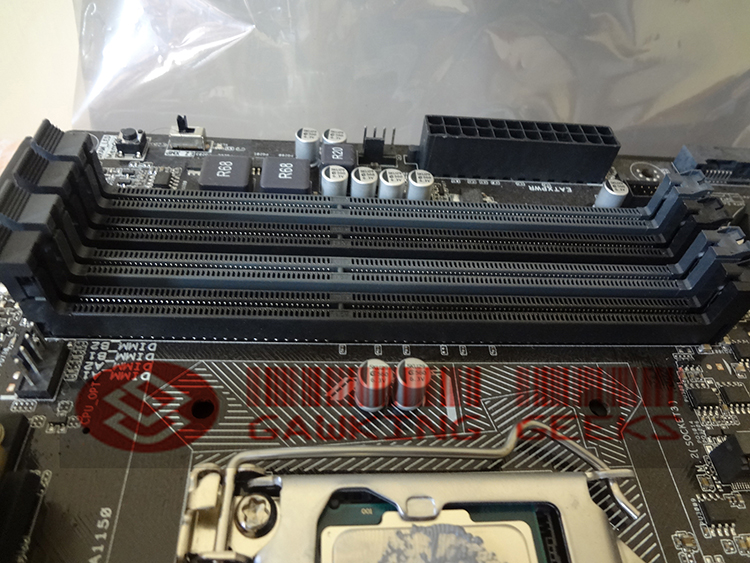 Four 240 pin DDR3 DIMM slots can hold up to 32GB of Dual Channel memory (the color coded slots run on dual channel). The other phases are fed by the 24 pin ATX power connector (top right).
The PCH is cooled by another passive heatsink that is undoubtedely the most good looking part of the board. The round, gold and black heatsink is also featured on the box of all Z97 motherboards, be it entry level Z97-C or upper mid range Z97-Deluxe/Z97 Pro. Another set of power features include the TPU and EPU modes which automaticaly OCs the CPU and enables ultra efficient power saving mode respectively.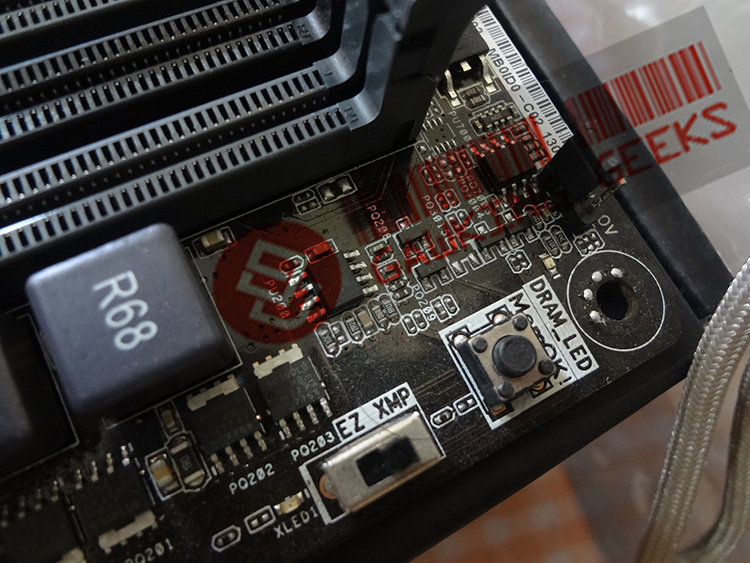 The EZ XMP switch is also a handy add-on since it lets you to enable XMP mode without entering the UEFI. And the MemOK! is always there for the rescue when a memory OC goes wrong. You can also see one of the two power phases (the block marked R68).
Overcurrent protection, ESD protection, electrical surge protection and many other safety features make your OC's secured and it's all under warranty.
►► Short note on BIOS and its features :
The UEFI is definitely one of the best I've used, it is simple for casual users, informative for geeks and features the advanced mode with lots and lots of features to give enthusiasts their part of share. It's embedded on a 64Mb flash and claims to be "crash-free". Well, if it is then good going Asus. It features auto OC but it renders to be unnoticeable.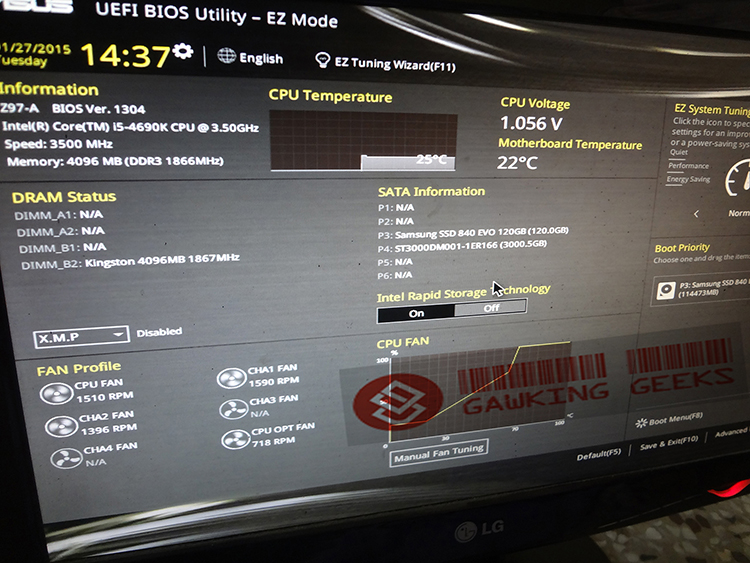 ♦ Some more add-ons include a platter of utilities like :
   • Fan Xpert 3
   •Precision Tweaker 2
   •OC Tuner
   •AI Suite 3
The test bench we used had the following specs :
• CPU : Intel Core i5-4690K (Devil's Canyon) Quad-Core CPU @3.5GHz
• GPU : iGPU (Intel HD 4600)
• RAM : 2x4GB Kingston HyperX Fury 1866 MHz CL10 @1.5V
• PSU : Seasonic M12II 620 Evo 80+ Bronze certified
• Case : Cooler Master K380
• HDD : Seagate Barracuda 3TB 7200 RPM 64MB Sata III HDD
• SSD : Samsung 840 Evo 120 GB
• OS : Windows 8.1 Pro x64
• Cooler : Cooler Master Hyper 212X (In push pull with Corsair SP120 quite edition)
•Others : Dragon War GK-002 Dark Sector Professional Keyboard, Dragon War E8 Unicorn Mouse, Lenovo P950 headset, 3x Cooler Master SickleFlowX case fans, Transcend Portable DVD-RAM.
The real time benchmarks and OC tests are going to be added soon. So stay tuned and don't forget to like us on Facebook and follow us on Google+ circle.
You can get in touch with me through my Facebook ID and my twitter handle.